Brr!! Good and hopefully warm morning WABBLES. We are back at it again with another weekend on the horizon and the work week in our rearview mirrors. Luckily, we can put away the umbrellas for now but our temps have dropped. With chilly temps giving us an early taste of winter, it's time to keep your coats on standby.  Let's dive into your weekend forecast.
Thermometers everywhere in our region (GIPHY)
Friday
Chilly but, the temps will rise into the 60s for our highs.  Mostly sunny skies with a 5-10mph southern wind keeping things a bit cooler in our region. As we head into the afternoon hours, nothing shakes things up except a passing cloud or two. The temps will steadily drop during the overnight giving us lows in the 30s along with a light southern wind.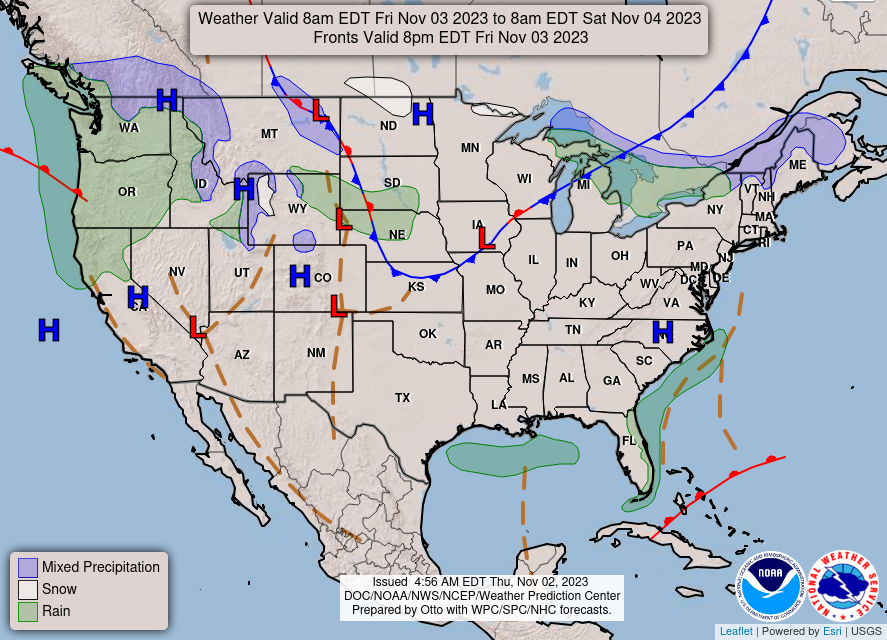 All is quiet on the eastern front (WPC)
Saturday
The chilly to pleasant rollercoaster continues with our light southern winds now coming out of the southwest. Sunny skies with highs in the 60s across our region give us a perfect combination for outdoor activities. Clouds roll in throughout the afternoon hours leading to mostly cloudy skies as the southwestern winds reduce to a light breeze. This will give us slightly warmer lows in the 40s for our overnight.
High pressure keeps cold front and low to our north. (WPC)
Sunday
Our Sunday won't be as chilly to start but, there will still be clouds in the sky. Perfect weather for the BG marathon runners as we see highs potentially reach 70. Steady cool down throughout the day as cloud cover gradually decreases giving us partly cloudy skies for the evening hours. Lows potentially reaching 50 in our region as we end our weekend.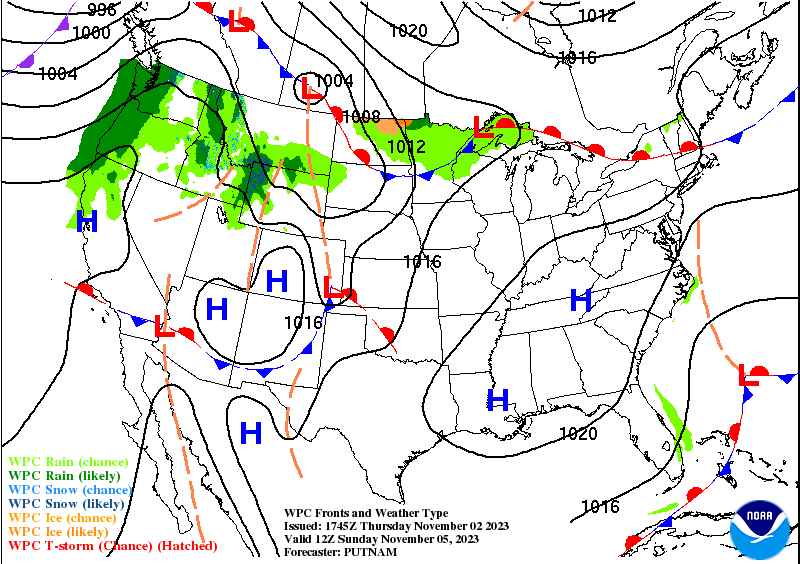 High pressure remains in place as the steady warm-up continues. (WPC)
That concludes our WABBLES weekend weather forecast. No umbrellas just coats and sweaters as we tackle the weekend head on. As the warming trend continues, we could potentially see temps in the 70s along with the return of rain chances. Though our mornings will be on the chilly side, we can look forward to wonderful afternoon weather. Also don't forget to set your clocks back for daylight savings time. Until next time, Stay classy weather chickens.
We are still getting those nice warm temps. (GIPHY)