Happy Tuesday Morning to everyone out there across WABBLES! I hope everyone is having a great start to the morning and week. We have a quiet next few days coming up but that looks to change for the second half of November.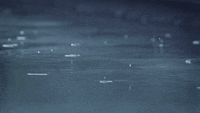 Today – Thursday
To start out our wonderful forecast this week, we have a plethora of high pressure over the Ohio Valley keeping us nice and quiet this November day. This high pressure will last into Thursday, meaning no rain for the time being.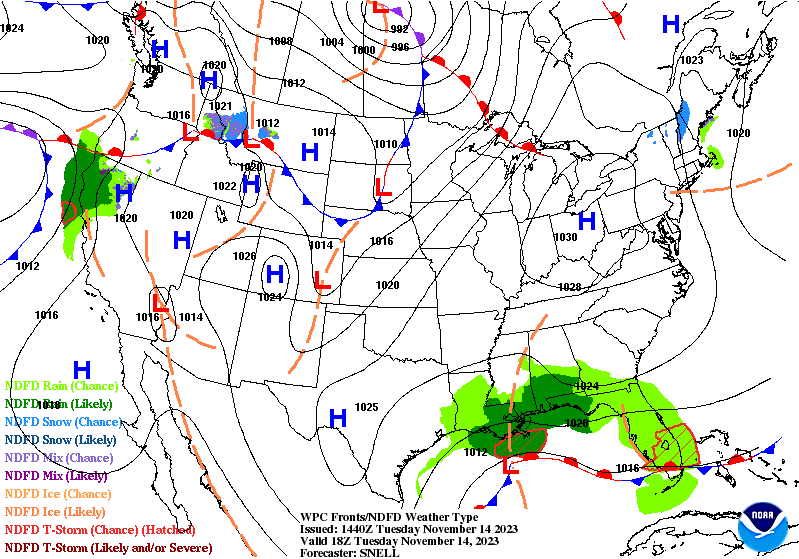 During this time, temps will be staying in the 60s which, which is above average for Fall around WABBLES, but not too bad.

Friday
A cold front will be passing through WABBLES on Friday, bringing some good old November rain chances with it. This doesn't look like it will be too impactful, with rain totals of around .25″.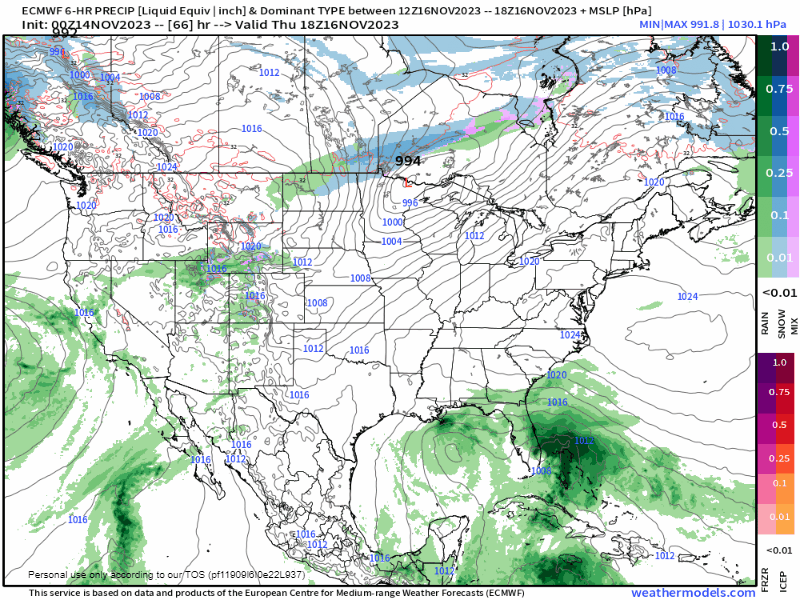 Long Range
The long range forecast period is gearing up to be quite the interesting one. We look to have decreasing temperatures and active storm tracks.
First, we can look at the temperature outlook in the 8-14 day timeframe. For this period it appears we will be in a transition period from above average to below average temps.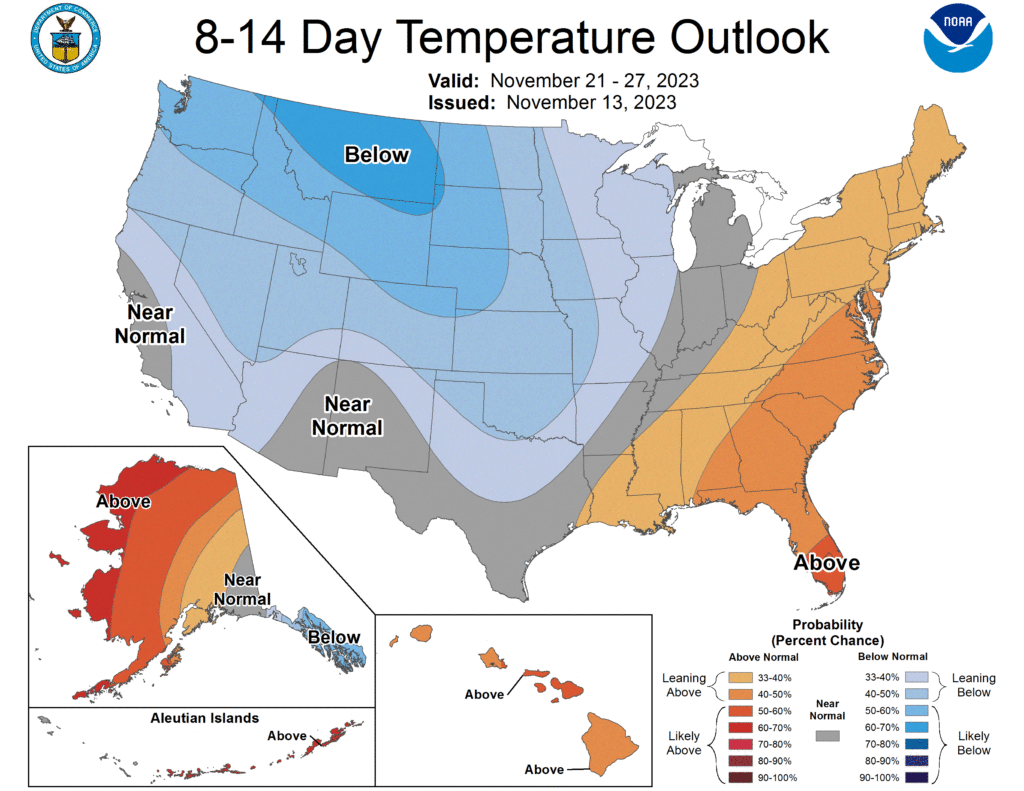 Keeping with the temperature subject, we can start to look at teleconnections for another look into how temperatures and our overall weather pattern may look in the next few weeks.
First, we can look at the North Atlantic Oscillation (NAO). There is a good model agreement that we stay in the negative phase until about the 18th when it shifts into the positive phase which can correlate with warmer conditions in WABBLES.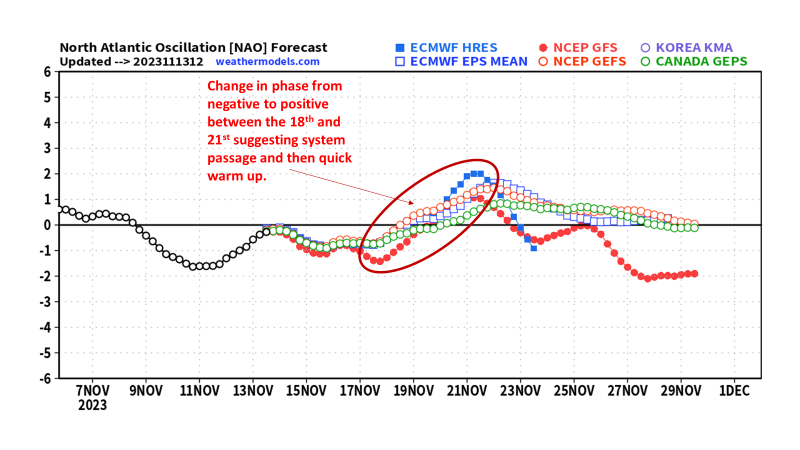 After the 21st of November there appears to be a trend towards negative again but with an unclear magnitude, if it can dip back negative, there would be potential for a colder pattern. The trend towards negative could also suggest another system passage.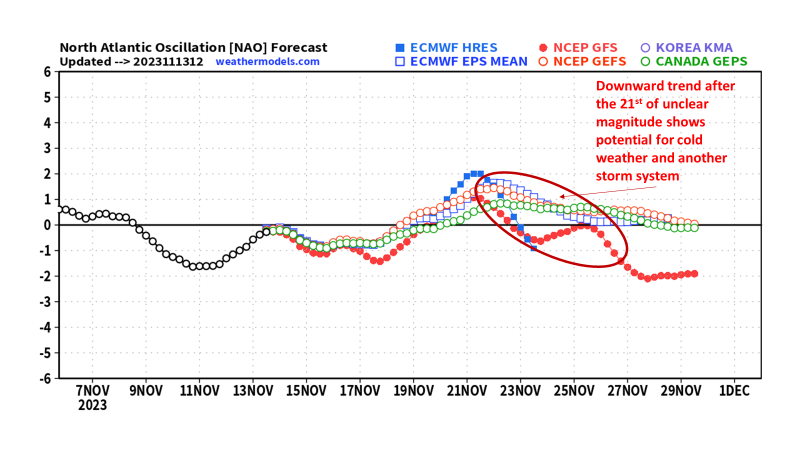 There is another teleconnection we can look at, the Pacific North American Pattern (PNA). Models agree in a very sharp switch from the negative phase to positive, this correlates to a sudden temperature flip which can be attributed to a storm system.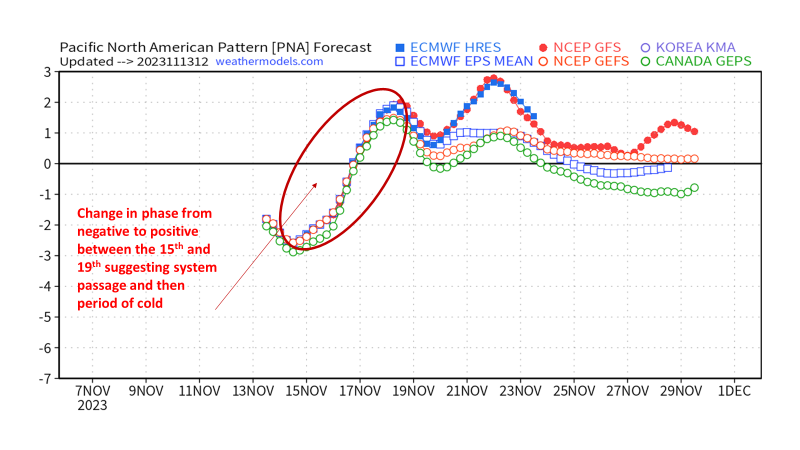 Once this flips to the positive phase around the 19th of November we see more fluctuations with unclear magnitude. These could be potential systems moving through but that is a bit more unclear at this point.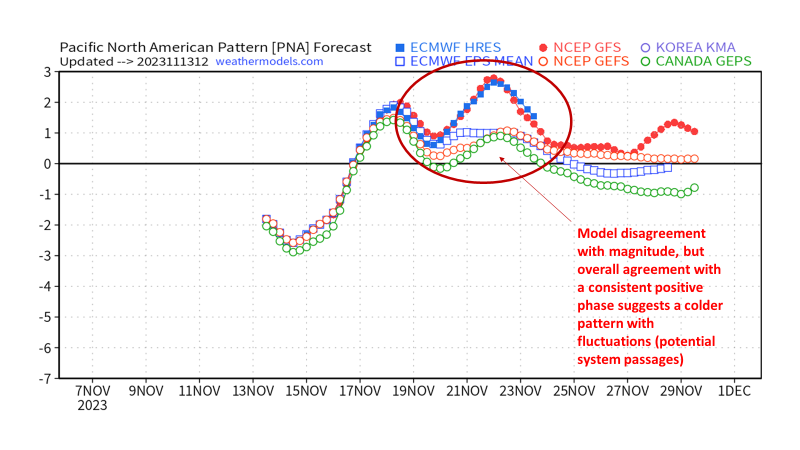 Overall, the NAO is suggesting a slightly warmer pattern for the second half of November and the PNA suggests a slightly colder pattern with a few system passages. The golden question will be which, if any, of the teleconnections will be more dominant and have a good handle on the upcoming pattern.
Switching over to the numerical models (GFS, Euro, etc.), there are consistent signals for one or more storm systems to move through WABBLES close to the Thanksgiving timeframe.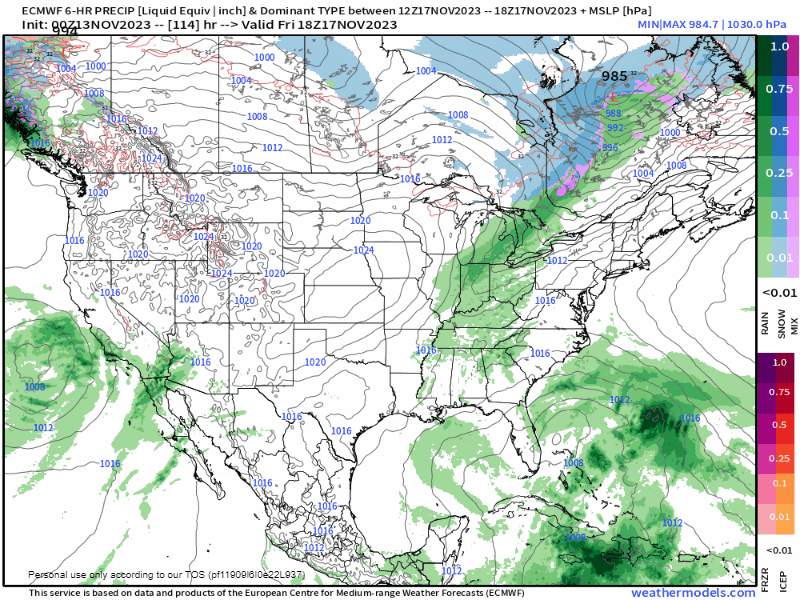 What those potential systems will look like and exactly what weather they will bring is still very unclear at this point, but confidence is higher in their being some sort of system(s).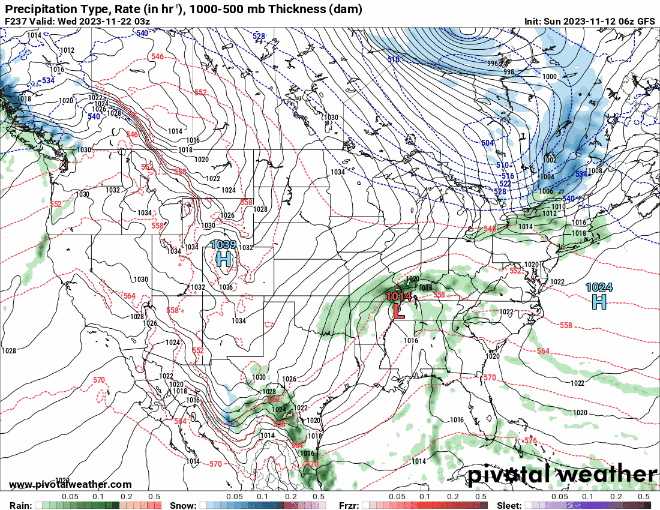 Keeping in line with the Thanksgiving-ish timeframe, there are again signals for a much colder airmass to come and pay us a visit.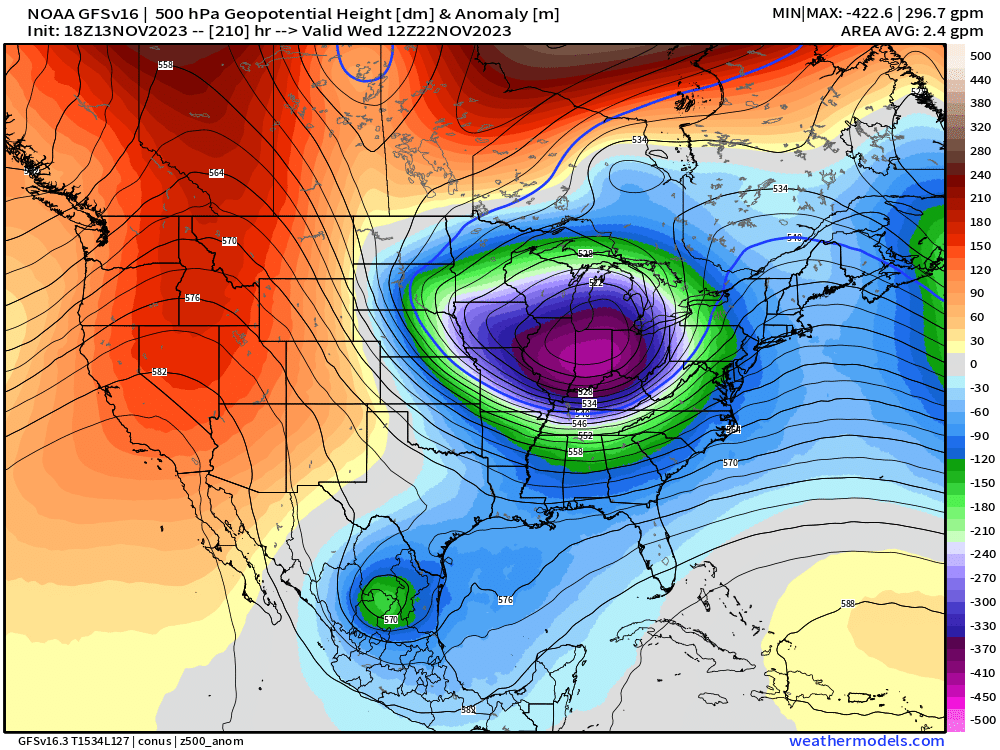 Once again, the degree of the cold and how far south it will be able to reach is still quite the mystery and numerical models are still fluctuating on solutions.
In Conclusion:
Potential for colder than average temps around and going into Thanksgiving.
Potential for one or more storm systems to work through the region close to Thanksgiving.
Hazards from said systems still very unclear.
That will be all for this blog post folks! I hope everyone out there has a great rest of the week and can stay dry from the rain chances coming up. I encourage everyone to visit us on our social media pages @wxornotBG for further updates.
Have a blessed day!