Good morning WABBLES! I hope everyone enjoyed the warm weather and clear skies, because starting today that will be changing! Throughout today and tonight we will be seeing rain showers and mostly cloudy skies.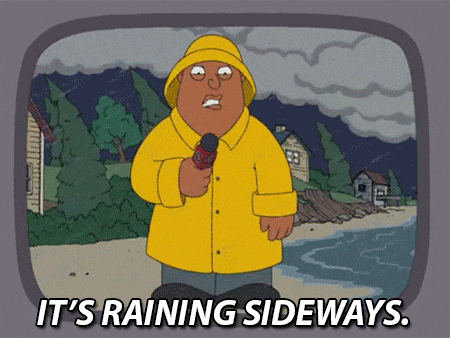 Table of Contents
Today
Today skies will be cloudy, with our recent warm temperatures continuing with a high of 65 around 3 p.m. There is a 20 percent chance of rain for the area, with the WPC (Weather Prediction Center) having a stationary boundary bringing portions of rain to Western Kentucky.
This Evening and Tonight
The stalled frontal boundary will continue to bring rain throughout the rest of the evening leading into Friday morning. Thunderstorms are also possible after midnight, but with relaltively low values of CAPE (Convective available potential energy) and not enough instability in the upper air leads for little support for any sever or significant storms to occur. A low of around 55 degrees and winds to around 15mph to occur at night as well.
Potential Threats with Rain Incoming
With a stalled front, typically large amounts of rain can be associated along with it. With this being said, the Quantitative Precipitation amounts in certain areas of Kentucky will vary, and could lead to local river flooding.
Between tonight and Friday, WABBLES is within the Slight (SLGT) risk for rainfall exceeding flash flood guidance. This means there is only a 15% chance of our area being at risk for flash flood criteria. An estimated amount within our area is a little over an inch.
Friday
Friday morning will continue to have rain showers, with the potential for thunderstorms now increased. The main things we can expect are:
Showers throughout the morning
Chance for thunderstorms (potentially severe) before noon
Strong wind gusts as high as 48mph
High near 70, low near 40 degrees
Right now, the SPC is calling for a slight risk of convective activity :
That's all for today! Only one more day until Friday, and then the weekend! I hope you all enjoyed the warm weather recently, and we will be continuing to monitor and report on the weather conditions if anything happens. Our social media pages linked below will have our most up to date and recent weather updates, live streams, and more!