Happy Friday everyone! We have got a lot to talk about today, but we have some good news with everything as well. First up on the list is the severe weather threat today.
Friday
Starting off today's forecast, is the possibility for severe weather. Now, this is still a lower end threat as noted by the SPC's Slight Risk (Level 2/5). The main concerns is any storms that can reach severe limits could bring damaging wind gusts and isolated brief tornadoes.
Let's time it out really quick, showers early this morning will move through and give way to what looks to be more isolated cells or clusters out ahead of the main cold front. The timing for these storms will be late morning to late afternoon. These cells will be the ones to watch for the weak tornado threat.
Towards the evening into the overnight we will see more of a broken line of storms move through just ahead of the cold front. If these storms can manage to go severe, they will pack more of a damaging straight line wind threat.
Instability, or the lack thereof of it in some places will likely be the limiting factor in this event. I still believe that areas across Western TN will see the best chance for severe weather, since they willl likely see the bulk of the instability. This does not mean our threat is zero, that cannot be stated enough.
Instability is not just the only thing that helps determine a severe weather threat, you also need to evaluate the winds. Here we have the Low Level Jet which, like the instability, is more heavily focused over Western TN. There is still some of Western KY but it is a bit more isolated and weaker which reincforces our threat being lower but not zero.
It has been just a little while since we have been under a Slight Risk or higher, so I will put this here as a reminder for the risk categories by the SPC.
The main takeaway from this is that the ingredients are certainly there across WABBLES for some strong to severe storms. I do not believe it is the largest threat, but nevertheless, when there is any threat for severe weather, it needs to be taken seriously. Be sure to have at least two ways to recieve warnings, and storm sirens do not count.
On a brighter side, after this wonderful cold front pushes through, the humidity will be taken away from the region for a little bit. You can see how the front really just pushes those higher dew points out of the way.
Finishing off today's forecast, let's discuss highs. I would expect highs to be in the upper 70s for the majority of the area, with those who can stay away from some of the cloud cover reaching around 80.
Saturday
For Saturday, there may be some lingering showers after the glorious cold front passes Friday night. Overall, however, it should be rather quiet with skies starting to clear up.
You will quickly begin feeling the effects of the cold front Saturday with highs staying in the low 60s! It is about time it felt like Fall around here.
Sunday
By Sunday, high pressure will make its influence over the area known with beautiful clear skies and quiet weather.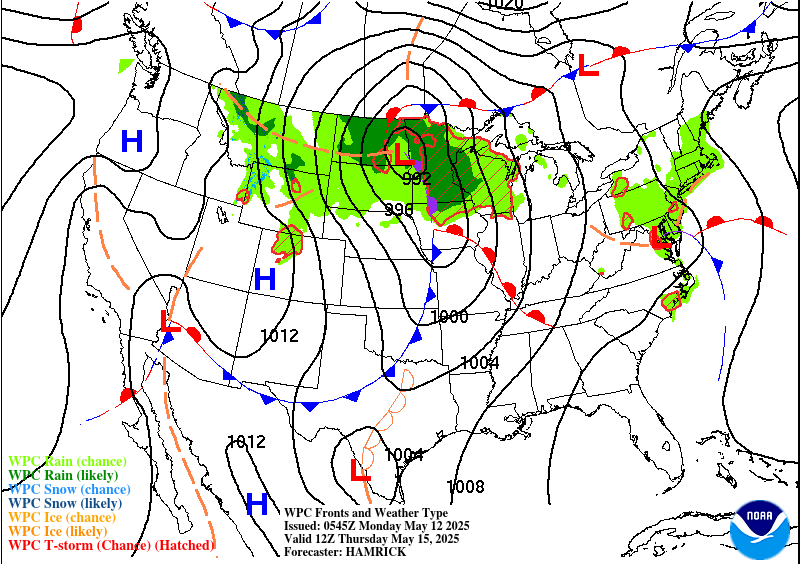 For those early risers out there, don't be shocked if you wake up Sunday morning and are met by temps in the 40s!
Temps will quickly rise throughout the morning to low to mid 60s for the high. All in all, Sunday looks to be an outstanding day to get outside and enjoy the newly Fall-like weather.
That will be all for this blog post friends! I hope everyone is safe out there today and is weather aware, but also are ready for the much-needed cool down. I encourage all of you to come follow us on our social media accounts linked below for further updates!
Have a blessed day!