Good Wednesday everyone! I hope everyone has had a great week so far and are ready for a nice day of off and on rain showers.
Today
Starting off, lets look at current radar, we have got plenty of spotty showers across WABBLES. I would expect the radar throughout the day to look more or less something like this.
These rain showers will continue to grow and develop throughout the day resulting in clusters all across the area. This will mean we will see plenty of off again on again rain showers. It is worth noting too that some rumbles of thunder and some gusty winds are also possible for the stronger storms.
Temperatures for the rest of the day look to be on the warmer side again with most people staying around the upper 70s. For those that could see some break in the clouds more, moments topping 80 are on the table.
Thursday
Thursday will see calmer conditions with only the usual pop-up scattered storms being in the forecast, a shocker I know. The best chances for these cells will likely be closer to the evening to nighttime hours.
Thursday will see the return of highs in the lower 80s and feels like temps into the upper 80s.
Friday
Friday will see the return of high pressure, however, rain and storm chances will still be in the forecast.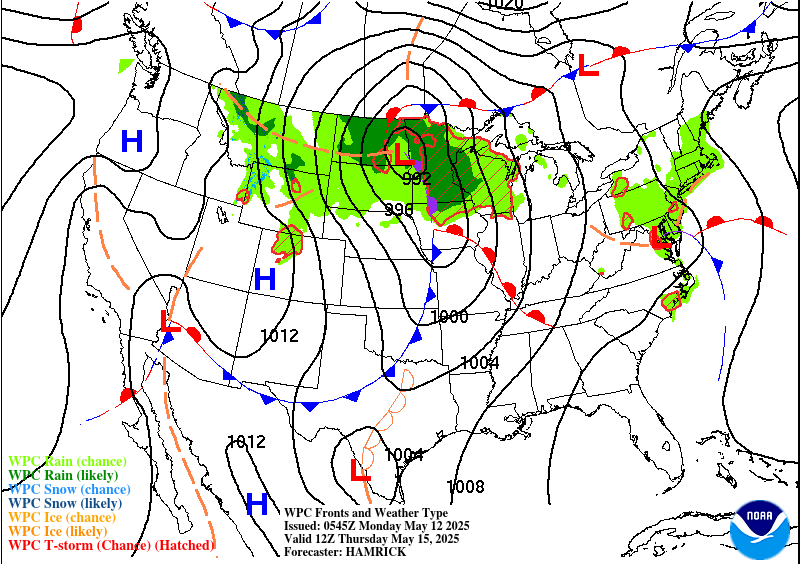 High pressure and rain chances? How? well friends when you get surface temperatures hot enough with some sun and those PWAT values I mentioned last blog high enough, sporadic convective pop up storms can still develop.
Since these are not attached to any fronts or larger weather systems, these will be very random when developing and typically will not get very organized. This is very common for us and how we get many of our pop up storms during the summer.
speaking of those warm temps needed to get those pop up storms, I would expect highs on Friday to be in the mid to even upper 80s.
Longer Range
Now, I do not know about many of you guys, but I am getting pretty sick of this heat. Unfortunately, the Climate Prediction Center has much of the US experiencing above average temps in both their 6-10 and 8-14 day forecasts.
Maybe we will get to experience some fall-like conditions eventually. But, either way, that will wrap up this blog post. I hope everyone stays dry today and has a great rest of your week. I encourage everyone to come and visit or socials linked below.
Have a Blessed Day!