Good Saturday morning everyone! I hope you all had a wonderful week! If you are like me, you might have some outdoor activities planned for the weekend. Conditions are looking mostly hot and dry. Storm chances are poised to make a return by the end of the weekend, with cool temperatures following closely behind. Let's dive into the forecast below with this rollercoaster of a forecast.
Today
The heat is ON starting today, my friends. After a stormy night to our north, dry conditions are expected to start our Saturday. Highs are forecast to be right around 92 with mostly sunny conditions. Please remember heat safety guidelines today during any outdoor activities. Dew points are not overly high though, so afternoon storm chances look slim at this point. Winds will be from the south at around 10 mph for most of the day, which will help to usher in some Gulf of Mexico moisture, partially from a tropical disturbance located just off the coast of Louisiana.
Tomorrow
Our high temperature for Sunday is expected to be around the same as Saturday (around 90 degrees). You will notice a slight change, though from Saturday. Our good friend, humidity, will make for feels-like temperatures on Sunday between 95-100. It is extremely important that people use caution when outdoors. With the return of humidity also comes the return of afternoon pop-up showers and thunderstorms. These showers and thunderstorms should stay pretty isolated, with storm chances around 20 percent. This model seen below seems to be underdoing temperature projections, which may be an influence of a tropical disturbance to our south. We will continue monitoring the models to see if this trend continues.
Next Week
A cold front on Monday will bring the chance for showers and thunderstorms to the WABBLES region. At this time, we are under a risk for general thunderstorms, according to the Storm Prediction Center. We will need to keep an eye on this, as we might see an upgrade to at least a marginal risk for severe weather by Monday. We will, of course, continue to monitor the situation.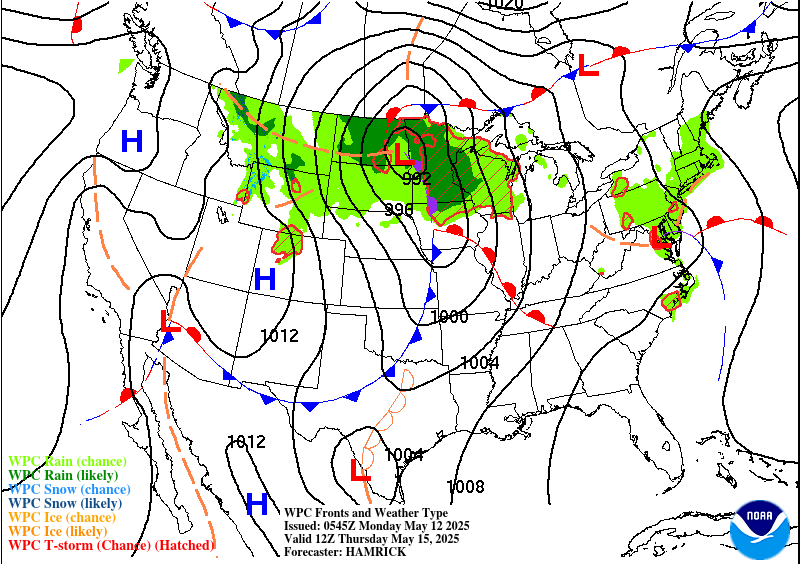 Our focus over the next few days will certainly be on storms, but it would be quite rude of me to not mention the SIGNIFICANT cooldown in store for next week. At this time, the high temperature for Tuesday is forecast to be right around 77 degrees. Mother nature just does not know what season we are in right now. Cool temperatures will last for a few days before Summer heat and humidity once again take over.
That will do it for today's post. I hope you all have a wonderful weekend. Please remember heat safety tips as heat dominates this weekend. Take breaks as needed and drink lots of water. I will be back Monday morning, after I take a quick day trip on Sunday! Remember to follow our socials @wxornotbg for the latest weather updates from our team.