Good Thursday Morning folks! I hope you have enjoyed your week so far! The weekend is getting that much closer. Similar to the past few days, scattered and erratic showers and thunderstorms will stick around for today.
Today
Starting off today, we can expect some very warm highs in the mid 80s, but periods in between rain could feel closer to 90. This will be thanks to any sunshine and the excessive amount of moisture in the atmosphere.
The main story for today will be the sporadic rain showers and thunderstorms. Severe weather is not a serious concern today, but flash flooding will be.
The sporadic and explosive nature of them make these cells rather unpredictable until they develop. The WPC has a slight risk for WABBLES for the chances of excessive rainfall.
The large scale disturbance causing the persistent scattered storms is thanks to a low pressure stuck over Illinois. The energy swirling around the low, combined with the copious amounts of moisture create a perfect concoction for scattered downpours.
Friday
Friday will feature scattered showers throughout the day as well, but to a much smaller extent.
The fewer showers will be thanks to the low pressure causing all of this to begin moving to the east, taking the bulk of the energy with it.
Severe weather will again, not be a concern with these scattered storms. I would look for highs on Friday to be similar to today, mid 80s with it feeling closer to 90 at times.
Weekend
Moving to Saturday, very isolated rain chances, and highs in the upper 80s. Spots peaking 90 is certainly on the table. The WPC frontal chart shows the overall chance of rain across the region.
On Sunday, A cold front will be moving through the area, resulting in some rain chances in the morning. That cold front will not put too much of a damper on temps, resulting in highs in the lower to mid 80s.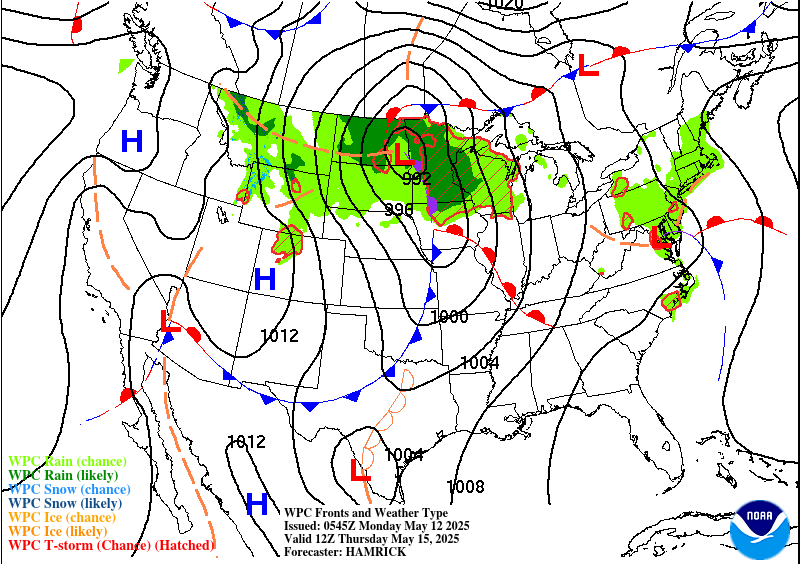 That is all for today folks! I hope you can stay dry out there and can enjoy the day. I encourage you all to visit us on our social media accounts linked below.