Happy Sunday, folks! It is the start of the new week and we actually don't have a lot of weather to talk about. We had a cold front move through overnight bringing rain and gusty winds. We look forward to the upcoming week though with dry and calm weather ahead.
Drying Out Today
Strong winds moved through overnight with wind gust in excess of 45mph across the Commonwealth. Winds are now starting to relax this morning and we will see conditions improve through the day.
The clearing line (red) is sweeping across Kentucky this morning where sunny skies will return to WABBLES. Temperatures will make their way into the low 60s this afternoon. Winds will slowly relax throughout the day with the Wind Advisory coming to an end at 5 pm this evening.
Temperatures tonight will drop into the low-30s overnight under clear skies. A few areas may even approach the freezing mark.
Calm Weather Next 5 Days
Large areas of high pressure will be dominating the eastern half of the U.S. over the next 5 days. This means only one thing, calm and dry conditions across a large portion the the United Sates.
We will have another cold front move through Tuesday. This will reinforce the cool air area and drop our overnight lows into the 20s. We are not expecting any precipitation with this boundary passing through Tuesday.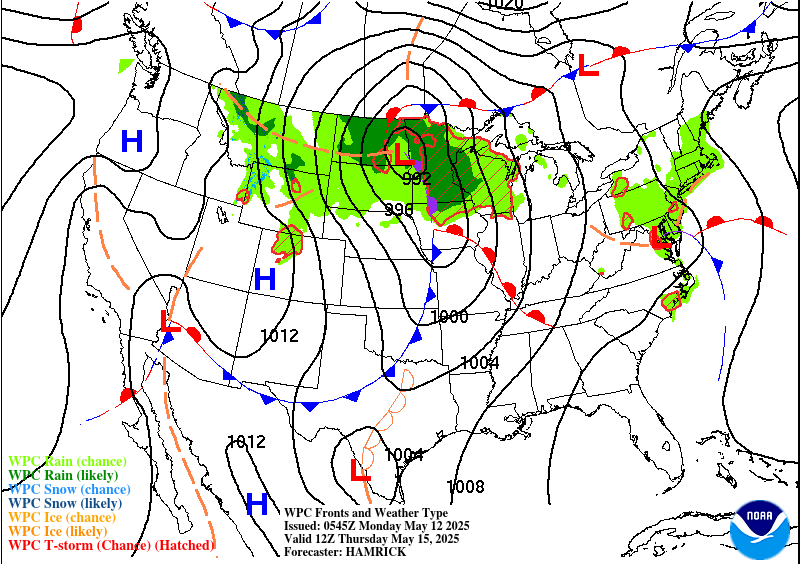 The weather stays calm throughout the week as the winds start to shift back from the south. Highs back into the 60s will be likey as we close out the work week. Every day this week will feature mostly sunny skies.
That'll wrap things up for this short Sunday edition of the blog. Enjoy the rest of your weekend and take care! Stay tuned and follow us on social media: @wxornotBG!