Good morning, Kentucky! We are T-six days until the start of Fall, but it's still so hot… I've got all the details below!
Hot Weather Continues Today
I wish there was something better to report, but this forecast will be the same as the past several days. A ridge will remain in place over the eastern United States, keeping us under clear, hot conditions for the foreseeable future.
Today will reach highs in the low-90s with upper-60s dew points. Although the humidity could be worse, it will still be very hot. Our position under this large area of high pressure will help keep us dry for another day.
Still Feeling Hot, Hot, Hot Tomorrow
The same forecast is on repeat for tomorrow as well. Highs in the 90s and dew points in the upper-60s. Our weather pattern continues to be stuck in this rut due to a large ridge of high pressure sitting over the eastern United States.
When this happens, the atmospheric flow is in a meridional pattern, which means air flow is running north-south. With a center of low pressure on both sides of the ridge, it is being sandwiched and therefore cannot move very much.
Ridge Pattern Continues on Thursday
With the same atmospheric pattern in place for Thursday, the weather will remain similar. With highs in the 90s and dew points in the mid-60s, heat indices will be near the actual temperature outside. We look to stay dry for another day as we maintain our position under that ridge of high pressure.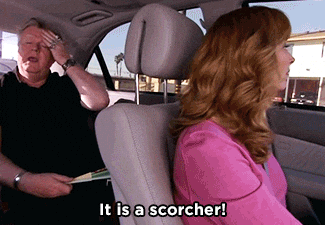 That concludes today's post! Have a great Tuesday and remember to follow @wxornotBG on Twitter for all your weather updates. See you next time!