Mild Thursday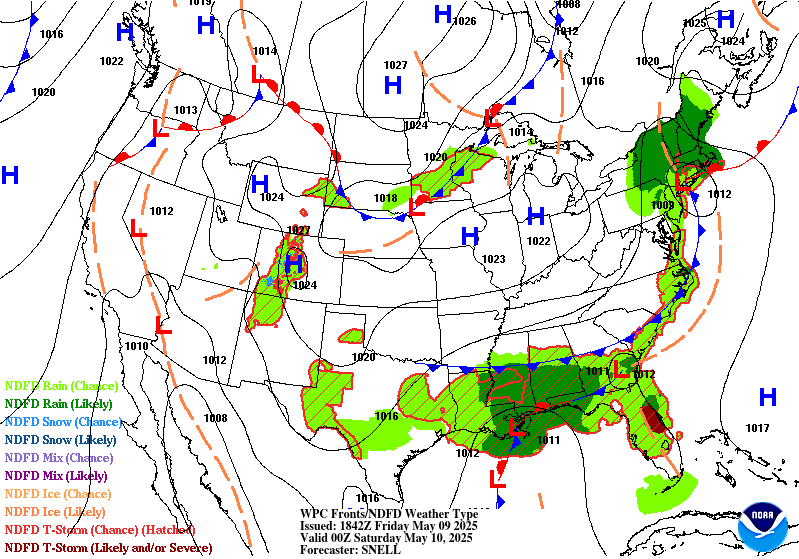 It looks like we're in for a real treat today because it's not going to rain! Yay! However, the rain is coming back, so don't put up your rain jacket just yet. For today, southerly wind flow will allow temperatures to remain very mild, with highs right around 60 degrees. Also, we'll finally be able to see at least part of the sun again (it's been a while).
Thanks to the southerly surface flow, we can expect a 5-10 mph breeze during the day, especially in the afternoon. For tonight, lows will stay in the low 50's under mostly cloudy skies.
Flooding Concerns for Friday
Our next weather-maker will move through the region Friday, giving us lots and lots of rain. Southerly flow will continue to increase on Friday, pulling plenty of moisture into the atmosphere.
As the system gets closer to the area, it'll tap into that moisture, creating an axis of heavy rainfall. The rain looks to start Friday morning and will last through Saturday morning, and will create a flash flooding threat.
2-4″ of rainfall is anticipated tomorrow afternoon through Saturday.  The flash flooding concern is very real with this much rain, so please be very careful if you have to drive.
Highs for Friday will be in the low 60's and lows in the mid 40's. Rain will continue overnight into Saturday morning.
Showers on Saturday; Snow on Sunday??
The rain will eventually stop Saturday mid-morning, even though it feels like it never will, and a cold front will push through the state. Once the front moves through, much colder air will quickly infiltrate the area, possibly allowing us to see some light snow flurries later in the day and into the evening! Highs for Saturday will be near 50 degrees with lows reaching a chilly 30 degrees.
On Sunday (Christmas Eve!!!!!!), there is a possibility for some snow flurries or snow showers; however, no real accumulation is expected. Highs on Sunday will be in the low 40's under partly sunny skies, brrrrrrr!
That's it for me! Have a great end to the workweek. Follow @wxornotBG on Twitter and like Landon Hampton on Facebook for the latest weather information. Also, Landon posts daily weather vlogs on Facebook, so be sure to check those out! Have a fantastic day!