Happy Thursday, Bowling Green! Things have cooled down a bit since the start of the week , but don't be weary! Quiet weather remains in the forecast for the foreseeable future, but with a few isolated shower chances this weekend. Temperatures remain seasonably mild, too!
A Picture-Perfect Thursday
After a crisp, cool start this morning, temperatures will climb rather quickly out of the upper 30s to reach an afternoon high of around 62-degrees. Skies will be virtually cloud-free, with abundant sunshine gleaming throughout the day!
Slightly Cooler Friday
After a near picture-perfect day Thursday, Friday will feature more of the same, albeit slightly cooler. Temperatures in the morning will start out around 40-degrees or so in the morning, and climb modestly throughout the day. Highs in the afternoon should generally be in the mid-to-upper 50s area-wide. Skies will be mostly sunny, with the chances of rain being non-existent.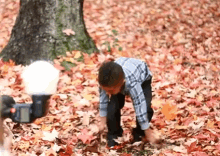 The Weekend Outlook:
SATURDAY: As we begin the weekend, temperatures to start your Saturday morning will be quite cold, generally in the middle 30s. Temperatures, however, will climb rather quickly to reach an afternoon high somewhere in the mid-60s for most across W.A.B.B.L.E.S.
* The chance for an isolated shower exists Sat. evening/overnight w/ passing front. (Rain chance: 40-50%) *
SUNDAY: After the chance for a rogue, isolated shower overnight, conditions will dry out as we awaken on our Sunday. Temperatures will be VERY mild to start the day, bottoming out only in the low 50s. Temperatures will climb to reach a very mild upper 60-degree reading by the afternoon, with partly cloudy skies and the chance for a pop-up shower as well.
* Slim rain chances Sun. Early AM/PM. (Rain chance: <20%) *
That'll do it for this Thursday edition of the blog! Stay tuned for more, and enjoy the weekend! Follow: @wxornotBG!