Good Morning, WABBLES! We have had some great weather conditions across the area for the last few days with low humidity and cooler temperatures! It looks nice today before the heat and humidity return for the weekend.
Today's Weather Setup
Our area has been lucky the last couple of days with a stalled boundary just to our south. This frontal boundary is separating comfortable, less humid air to a tropical air mass just south of the area. We have also stayed dry compared to those on the other side of the boundary.
Temperatures will top out near 86 degrees this afternoon with the low humidity again making it feel pretty nice out there. A few scattered afternoon clouds, but otherwise mostly sunny with calm winds. We see lows tonight dropping down to around 65 degrees with mostly clear skies.
Heat Cranks Up Friday
We begin to see the change of temperatures and humidity by the time we hit Friday. The stalled frontal boundary doesn't really move north but fizzles out. Southerly flow looks to become much stronger and will stream moisture northward on Friday.
Dewpoints on Friday are will be approaching 70 degrees which will make a big difference in how humid it is going to feel. Highs on Friday will reach 91 degrees with partly cloudy skies. I cannot rule out an isolated shower Friday afternoon because of the moisture and heat that will be present, but that looks very isolated. Lows Friday night around 69 degrees and still muggy out there.
Overview of the Weekend and Beyond
Taking a look at the weekend we see the heat and humidity continue along with elevated storm chances. We will see a boundary develop to our north across Illinois and Indiana. That area will be the focus for storm development, but we will have to watch our area for afternoon pop-ups.
We will also have to watch closely for storms moving out of Illinois/Missouri Saturday into Sunday. A complex of decaying storms may make an approach on the area and will be something to watch for more rain chances.
Severe weather does not look like a threat as of right now but will be monitored. Temperatures this weekend will be well into the upper 80s with oppressive dewpoints making it feel really muggy. We will see partly cloudy skies a majority of the time with again chances for a few showers or storms.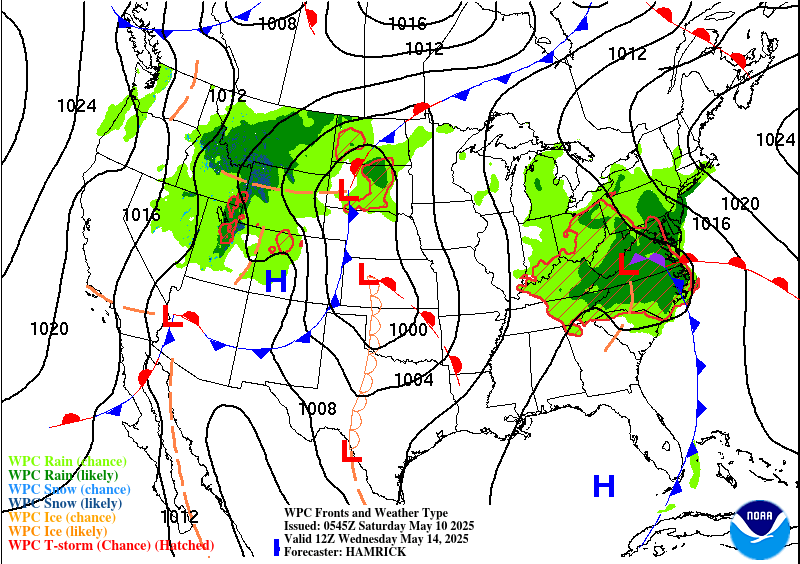 Watching closely early next week for even higher rain and storm chances. The boundary that was over Illinois/Indiana will slowly sink south. We should see better chances of rain as we begin next week.
---
Today's Featured Image
That does it for today's post! Remember to follow us on Instagram, Facebook, and Twitter for all the latest weather updates @wxornotbg. Enjoy your Thursday and have a great rest of your week!
---