Good Sunday morning, Kentucky! I hope everyone has had a great weekend so far. Today will be warm with the possibility of fairly gusty winds but precip and plunging temps are on the horizon. I've got all the details in my post below!
Warm(er) and Gusty Sunday
Rather beautiful conditions are on the table for today with high temperatures reaching into the mid-60s under sunny skies. Southwest winds could be gusty during the late morning/early afternoon hours. Sustained winds are expected to stay around 10-15 MPH with gusts reaching over 20 MPH. You might want to secure any Fall (or Christmas) decorations to prevent them from blowing away.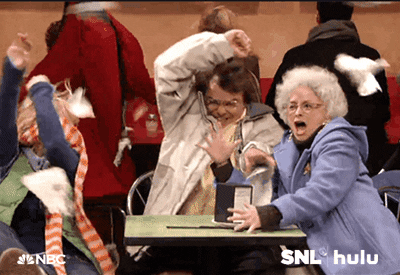 Very Unsettled Conditions on Monday
Nothing makes a Monday more of a Monday than adding some clouds and rain. Well, there's plenty of both headed our way tomorrow. A very strong cold front will swing through our area Monday afternoon and bring the chance of gusty winds, rain, plunging temperatures, and snow. Lets break down each of those:
Gusty Winds
Winds should remain rather calm during the morning, but as that cold front moves through, wind speed will pick up. After sunset we could be seeing sustained winds over 10 MPH with gusts near 25 MPH. These conditions look to continue throughout Monday night and into Tuesday, so secure any loose outdoor items.
Rain
Light isolated showers may begin for our western counties during the morning commute, but measurable precipitation could hold off until the early afternoon hours. As of now, models are agreeing on less than 0.3″ of rain.
Plunging Temperatures
Temperatures will still reach into the upper-50s Monday afternoon but will quickly drop after that as the cold front passes. Temperatures will start to drop after noon and continue to plunge into the low-20s overnight. Please be sure to have proper shelter in place for outdoor animals or bring them inside.
Snow
I wouldn't go out and buy the milk and bread just yet, but the possibility of snow is on the table for Monday night into Tuesday. With the quickly plunging temperatures from the passage of the cold front, rain could transition to snow. As of now, models are agreeing on less than 0.5″ and more along the lines of 0.3″.
Bitter Tuesday
Being well behind the cold front on Tuesday will have our high temperatures fighting to reach above freezing. Although the chances of rain and snow will be gone by then, the gusty winds may remain for much of the day.
The overnight low looks to drop into the mid-teens, which are the coldest temperatures we've seen so far this season. Bundle up your kids if they wait for the bus (hats, gloves, scarves, etc.) and yourself if you're headed out. Brr!
That concludes today's post! Enjoy your Sunday and be sure to follow our live Twitter feed for updates on Monday's weather. Thanks for reading!