Rise and shine, Kentucky! The main concern in this post is the severe weather threat that is looming over our this evening. Everyone needs to stay up to date on this system throughout the day. I've got all the details below!
Breakdown of Tonight's Situation
You can expect the rain to stick around all day with steady winds between 15-20 mph and gusts up to ~30 mph. The strongest rains are expected between 9am and noon. At the end of this all day rain event, we are looking at another two inches of accumulated rain to add to our already saturated surface.
Likelihood of Severe Weather
Daytime temperatures are going to play a large role in this evening's severe weather threat. The more sunshine that we receive today, the more unstable our atmosphere will become. Temperatures are expected to reach into the mid-60s with dew points not far behind. The rain will help hinder this possibility due to lingering cloud cover. However, the potential for severe weather is still on the table. The Storm Prediction Center (SPC) currently has our area under a slight risk (2/5) for severe weather.
Timing
Rain will linger the whole day and do not be surprised if you hear some thunder here and there. Wind speeds will pick up even more after it gets dark and could reach ~35 mph. The window of time for the greatest potential for severe storms will be between 7pm and 2am. The exact timing will depend on the development of atmospheric instability.
Impacts
With this system, we have the potential to see strong wind, heavy rain, hail and possibly isolated tornadoes. The main threats for our area will be the strong wind and flooding from heavy rain.
Gusty Sunday
Tomorrow will be a much deserved dry day. Rain will not be a concern but gusty winds will remain. Sustained winds of 15-20 mph and gusts up to ~40 mph can be expected. The high will reach into the low-50s and the overnight low will drop to the mid-40s.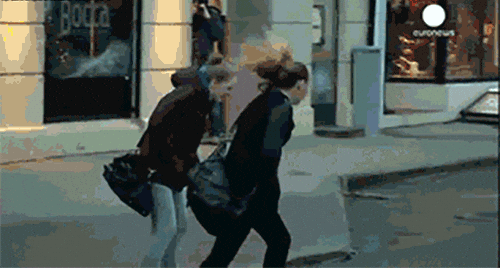 Dry Start To the Week
The atmosphere will chill out by the start of the week as high pressure takes over. Precipitation will not be a concern and the winds will calm down immensely. Highs will be in the low-50s and overnight lows will drop to the low-30s. The next chance of rain looks to be mid-week.
That concludes today's post! Make sure to stay updated on tonight's severe weather throughout the day. Follow @wxornotBG on Facebook and Twitter and watch for the latest information. Have a great day!