---
Good morning! Hope you all had a great weekend. Looks like we have a constant chance of storms throughout the week. Additionally, temperatures will be sitting around 90° for the week. Dew points will be in the 70s, as well, calling for humid conditions.
Today
Temperatures are in the 70s and we have clear conditions for our morning commute.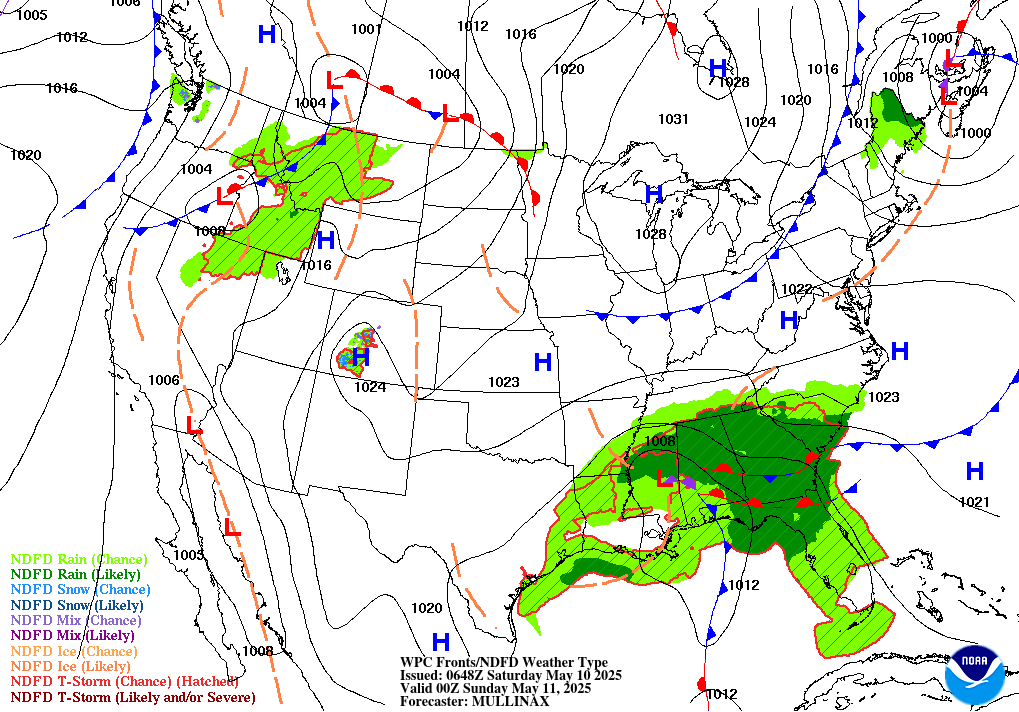 h/t WPC
As today continues, storm chances will increase due to a shortwave over the Ohio Valley region. The high temperature is expected to increase into the high-80s and potentially into the low-90s. For the most part, winds will be calm throughout the day. Tonight will feel a little hot with the low temperature decreasing into the mid-70s.
Tuesday
More thunderstorm chances are coming our way for tomorrow. Storms may be stronger for tomorrow than today. A cold front will be making its way through the area. It'll cause the air parcels to rise at faster rates which will add a good amount of instability throughout the atmosphere.
A large amount of moisture from the Gulf combined with the cold front will allow for heavy rainfall. An umbrella may not be the best option as lightning and wind gusts are expected. The temperatures will reach into the high-80s and dip into the mid-70s for your Tuesday.
Wednesday
More storms are likely for Wednesday. The high temperatures won't let up, as it could potentially hit the low-90s. Storms will develop and fizzle out all day and lots of rain will result from this. Wednesday's low temperature will increase into the high-90s. The added humidity will intensify the heat, so make sure y'all are keeping hydrated and cool!
Chance of Storms Throughout the Week
Looks like the end of our week may clear up just in time for the weekend. Temperatures will continue to stay high, however, the sun will be out and thunderstorms chances will lessen. After the constant chance of storms all week, this break at the end of the week will allow time for the ground to catch up and dry out. That is all I have for y'all; make sure to keep updated with the latest weather by following @wxornotbg on twitter for updates!