Seriously cold through Saturday
The next few days are going to be extremely cold thanks to a cold front that passed through yesterday. A northwest breeze will usher in cold air, preventing temperatures from rising out of the low 20's. Some places will struggle to reach the 20 degree mark. Some of you may even see some snow flurries this morning on the way to work!
Thursday High Temps via Pivotal Weather
Arctic high pressure nosing in from the north will bring very cold temperatures to the region, especially during the overnight hours. Overnight tonight, the low is going to be around 10 degrees. It looks like we may have an increase in cloud cover overnight with the possibility of a few flurries Friday morning, but no accumulation is expected.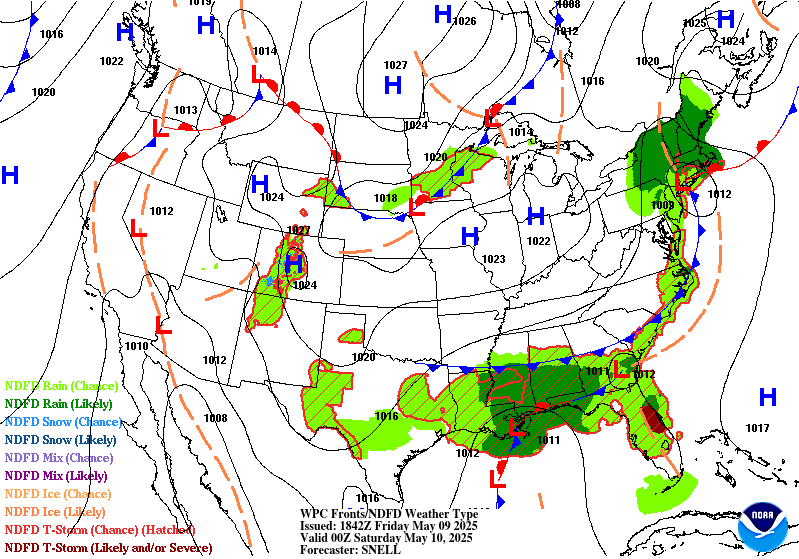 WPC Short Range Forecast valid today through Saturday
Once again, arctic high pressure will overtake the region, keeping us dry and cold today and tomorrow. Highs for Friday will be in the low 20's with places in northern Kentucky struggling to make it to the 20 degree mark.
Friday High Temps via Pivotal Weather
Overnight Friday will be the coldest with lows in the single digits. Make sure to bring in any pets because it's going to be extremely cold!
Friday Overnight Low Temps via Pivotal Weather
Saturday will be much of the same, but highs look to make it into the mid 20's. It is looking like we'll have plenty of sunshine on Saturday, so don't let that fool you; it's going to be very cold! Lows will be in the mid-teens overnight.
Via Giphy.com
It's looking like we're going to see some unsettled weather Sunday night into Monday morning. As of right now, there is the potential for a wintry mix during the overnight hours on Sunday, but confidence is still low with this system. So,  make sure to tune back in for more updates on this system.
That's it for me! Have a great end to the workweek. Follow @wxornotBG on Twitter and like Landon Hampton on Facebook for the latest weather information. Also, Landon posts daily weather vlogs on Facebook, so be sure to check those out! Have a fantastic day!