Thursday & Friday – Cold!
After a cold front moved through early this morning, temperatures today will be very chilly. As cold air advects into the area behind the front, we'll definitely be feeling it through our temperatures. Highs will be right around 40 degrees under mostly sunny skies. Again, temperatures tonight will indeed be very chilly with lows only reaching the low to mid 20's.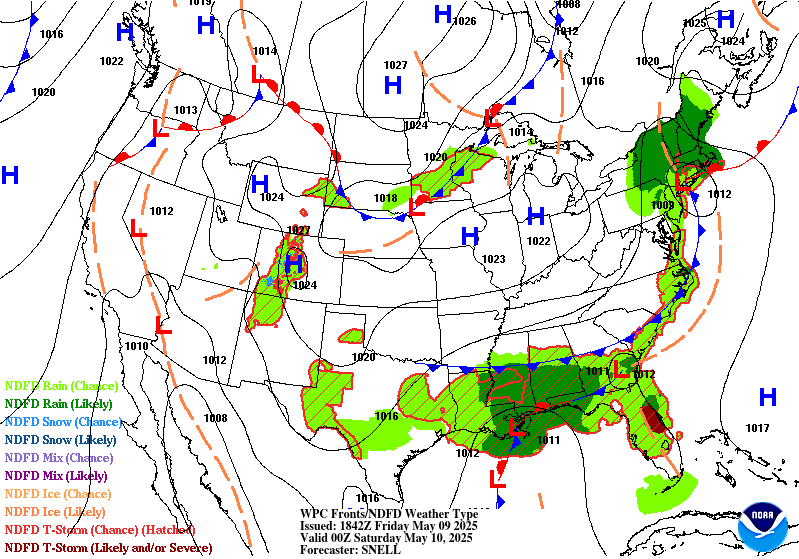 WPC Surface Analysis valid today – Saturday morning
Friday is very much a rinse and repeat forecast as that cold air sticks around. Temperatures will be just a degree or two higher than Thursday with highs in the low 40's. An upper-level disturbance will swing through the area; however, no precipitation is expected for our neck of the woods. The only thing we'll really see is some increased cloud cover.
Highs for Friday via Pivotal Weather
---
What's Ahead?
Surface high pressure will make its way into the area Friday night into Saturday. That means dry and mild weather for us on Saturday. Temperatures will be back to near normal with highs in the low 50's. Saturday looks like it'll be a really nice day to finish up some last minute shopping!
Via Giphy.com
For Sunday, it looks like we're going to get some rain as disturbance moves into the area. Saturday night should remain dry, but some areas may see a few sprinkles late in the evening. The rain will be widespread through Sunday morning then a lull until Monday when more rain enters the picture. Highs for Sunday will top out in the upper 40's.
Via Giphy.com
That's it for me! Have a great end to the workweek. Follow @wxornotBG on Twitter and like Landon Hampton on Facebook for the latest weather information. Also, Landon posts daily weather vlogs on Facebook, so be sure to check those out! Have a fantastic day!