---
Good morning! I hope everyone is having a great start to your Thursday morning. It looks like it's going to be kind of a bleh day today. With a surface cold front moving through yesterday, high pressure is building into the region today. This will leave us with sunny skies and pretty cold temperatures. Highs for today will be in the low 50's. There may be some fog this morning in low-lying areas, so just be aware while you're traveling to work.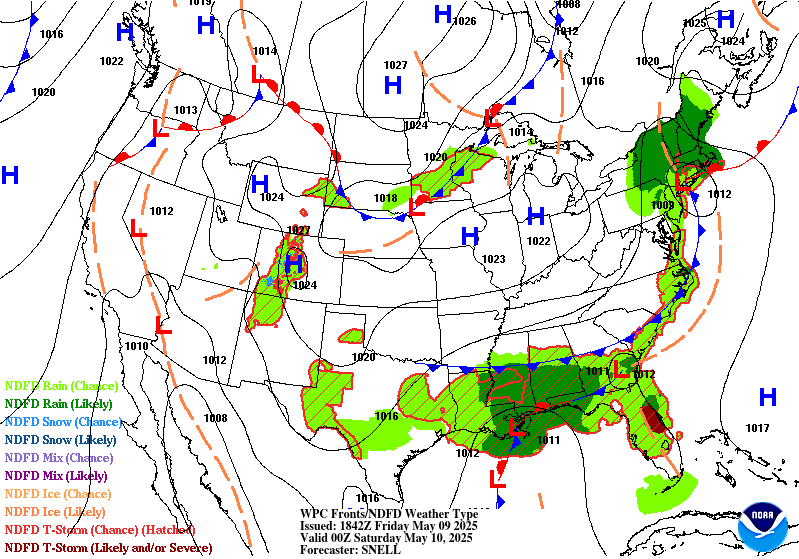 Via WPC Surface Analysis, valid today 7am – Saturday 7am
High pressure will begin to drift eastward Thursday night into Friday. Lows overnight will be right around the freezing mark. Friday will act as more of a transitional day as high pressure moves out and another weather system moves in. Highs for Friday will be warmer as southerly flow advects into the area. Temperatures will warm to right around 60 degrees. That's, like, real warm for November!
Via Giphy.com
Friday night through Saturday night, we could see some strong winds and storms in the area. As a low pressure system deepens in the Plains, a warm front will advance toward our area, causing showers and storms to move through the area.
Hi res NAM via COD Meteorology, overnight Friday through Saturday afternoon
The SPC has placed our area in a marginal risk (1/5) for severe weather on Saturday, with strong winds and storms being the main concern. Behind the aforementioned warm front is a cold front which will move through Saturday night. Behind the front we will see crashing temperatures, with highs in the mid 40's for Sunday.
Via SPC
---
Forecast Summary
Today: Sunny with highs near 50°. Overnight, expect mostly clear skies with a low of 32°.
Tomorrow: Mostly sunny skies on tap with highs near 60°. Overnight, expect increased cloud cover then showers, with a low of 52°.
Saturday: Showers most of the day with a high of 64°. Overnight, expect decreasing showers with a low of 35°.
That's it for me! Have a great end to the workweek, and stay safe out there! Follow @wxornotBG on Twitter and like Landon Hampton on Facebook for the latest weather information. Also, Landon posts daily weather vlogs on Facebook, so be sure to check those out! Have a fantastic day!