Via Giphy.com
Happy Veterans Day! It looks like we're gonna have some really nice weather to go along with this holiday. Today will be warmer than yesterday as southerly surface flow kicks in; highs will be in the mid 50's under mostly sunny skies. A very enjoyable day!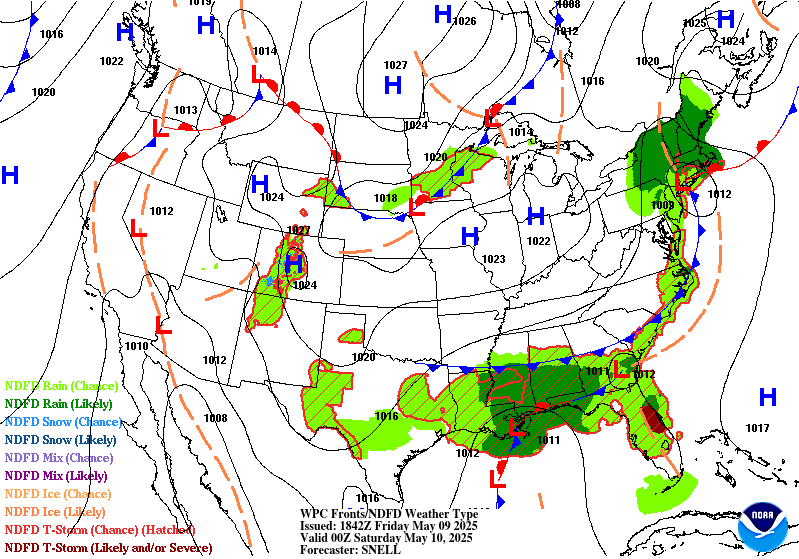 Via WPC Surface Analysis, valid today – Monday 6am
Saturday night into Sunday, a weak low pressure system looks to move into the area. We can expect increased cloud cover and some light rain. It doesn't look like we'll see any major downpours of rain, but some light showers are possible.
Hi-res NAM, Simulated Reflectivity, valid roughly Saturday midnight – Sunday midnight

Sunday night, the low pressure system looks to exit the region, allowing high pressure to start building back into the area. Monday looks beautiful and much like today! Highs will be in the low to mid 50's under mostly sunny skies, while lows will be a chilling 35 degrees! That's just cold!
Via Giphy.com
---
Forecast Summary
Veterans Day: Mostly sunny with highs near 55°. Overnight and into tomorrow, expect increased cloud cover with a low of 43°.
Tomorrow: Showers on tap with highs near 54°. Overnight, expect decreasing showers, then mostly cloudy, with a low of 39°.
Monday: Mostly sunny with a high of 52°. Overnight, expect partly cloudy skies with a low of 35°.
That's it for me! Happy Veterans Day, and thank you to all who have served and those who are currently serving! Follow @wxornotBG on Twitter and like Landon Hampton on Facebook for the latest weather information. Also, Landon posts daily weather vlogs on Facebook, so be sure to check those out! Have a fantastic weekend!