Good morning! It looks like we're gonna have some nicer weather for the end of the work week. Thanks to high pressure, we'll be under sunny skies with temperatures in the mid to upper 50's. I know that may seem a little chilly, but at least it's not gonna rain…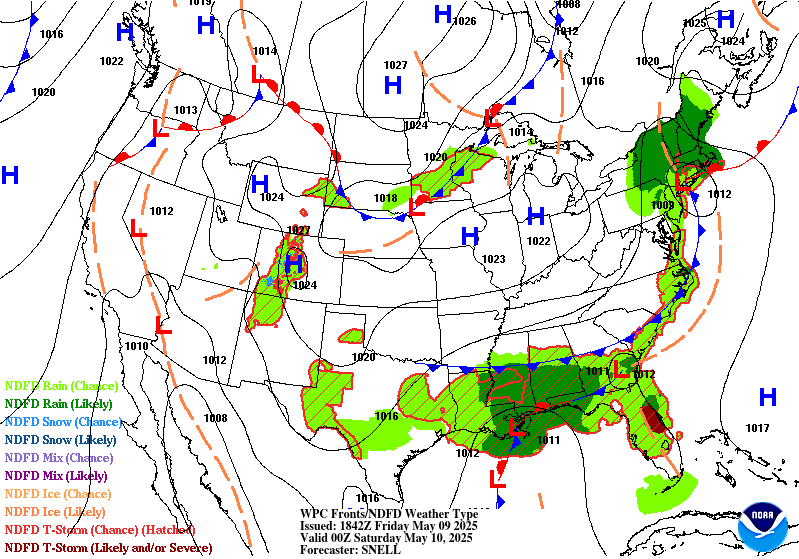 Via WPC Surface Analysis, valid today 7am – Saturday 7am
A dry cold front will push through the region tonight, so we shouldn't see any rain since there is very little moisture leftover in the atmosphere; however, we will see a pretty big drop in temperatures for Friday. Highs will be in the mid to upper 40's under sunny skies with overnight lows in the upper 20's! Holy cow, that's cold!!
Via Giphy.com
Veterans Day looks to be exceptionally nice with temperatures in the mid 50's under mostly sunny skies. Our next rain chance looks to come overnight Saturday into Sunday as a cold front moves across the area. The rain should dry up by Sunday evening with drier days starting off the next workweek.
---
Forecast Summary
Today: Sunny with a high near 57°. Tonight, mostly clear skies with a low of 31°.
Tomorrow: Sunny with a high near 47°. Night, mostly clear skies with a low of 28°.
Veterans Day: Mostly sunny with a high near 56°. Night, partly cloudy skies with a low of 39°.
That's it for me! Follow @wxornotBG on Twitter and like Landon Hampton on Facebook for the latest weather information. Also, Landon posts daily weather vlogs on Facebook, so be sure to check those out! Have a fantastic rest of the week!