Good morning, everybody! There's a lot to cover so let's dive on in! We will be within the warm sector today of the next impending weather system, so expect warmer temperatures and mostly dry conditions during the day today. We could see some pop-up sprinkles this morning, but nothing too exciting, and it should clear up by the afternoon. Southerly flow will keep temperatures elevated into the low 70's with mostly cloudy conditions dominating the sky. It could also be a bit breezy today with winds out of the south, so just bear that in mind.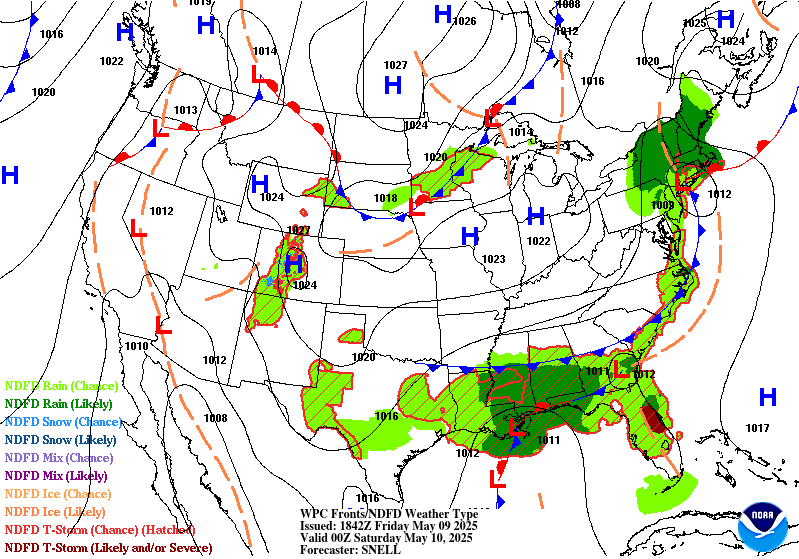 Via WPC Surface Analysis, valid today 7am – Saturday 7am
This evening into tomorrow, a cold front will begin to push its way through the area. Showers and storms will likely develop ahead and along the front, but severe weather is not expected. The front should be near the Tennessee border by tomorrow night, leaving us with wet and cloudy conditions during the day tomorrow. Highs will be in the mid 70's across the region.
Hi-res NAM, Simulated Reflectivity, valid Friday 5am – Saturday 5am
The aforementioned cold front looks to stall out and lift northward as a warm front on Saturday; this is all happening in response to another low pressure system moving in from the plains. (weather is crazy!) For most of the day Saturday, we'll have isolated to scattered chances of rain and thunderstorms.
Via Giphy.com
Highs don't look to be much different than the previous days with temperatures in the low to mid 70's. Lows also look to stick right around the 60-65 degree mark, giving us very mild, November nights. For the rest of the weekend into early next week, we can expect above normal temperatures with rain in the forecast. A cold front looks to come through sometime early to mid next week.
---
Forecast Summary
Today: Mostly cloudy with highs near 72° under mostly cloudy skies. Overnight and into tomorrow, expect rain showers with a low of 65°.
Tomorrow: More showers and thunderstorms on tap with highs near 74°. Overnight, expect decreasing showers and t-storms, then mostly cloudy, with a low of 61°.
Saturday: Chance for scattered showers and t-storms with a high of 75°. Overnight, expect mostly cloudy skies with a low of 62°.
That's it for me! I know this blog was kinda dense, but thanks for sticking with me! Follow @wxornotBG on Twitter and like Landon Hampton on Facebook for the latest weather information. Also, Landon posts daily weather vlogs on Facebook, so be sure to check those out! Have a fantastic rest of the week!