Headlining Weather
Good Sunday morning, everybody! I've got some great news for all you fall and winter lovin' people out there! Keep reading to find out!
Via Giphy.com
---
The Details
There is a low pressure system centered over the Great Lakes region, continuing to push eastward throughout the day. As this low pressure system moves eastward, it will drag a cold front across our area this afternoon. This is a pretty strong cold, so expect temperatures to drop heavily once the front passes.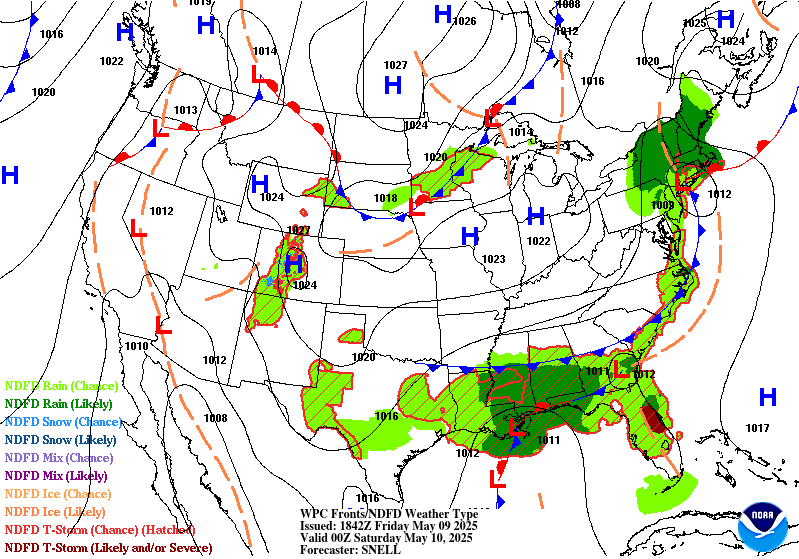 WPC Surface Analysis valid today 7am – Tuesday 7am
We can expect some showers with a few rumbles of thunder, mainly this afternoon, as the cold front passes. The rainfall totals look to be less than 0.10 inch with some areas receiving up to 0.25″ but this looks isolated. The main point is that flooding is not really a concern with this event; just your regular, old-fashioned rain.
COD Meteorology NAM NEST Simulated Reflectivity, valid today 7am – midnight
The only real, notable concern is the gusty winds. We could see wind gusts as high as 25-28 mph, so make sure to bring in or lock down anything that could potentially fly away.
Via Giphy.com
Highs for today will top out in the mid 70's during the morning hours and will continue to drop all day. Once the cold front passes later this evening, temperatures will continue to fall overnight and into tomorrow morning. For Monday and Tuesday, high pressure will start to settle into the area, leaving us with dry conditions and cold temperatures. Highs for Monday and Tuesday will be in the low to mid 60's.
Via Giphy.com
---
Forecast Summary
Today: Showers and some thunderstorms likely during the afternoon and evening hours. Highs reaching 75° will continue to drop throughout the day to near 55° by dinnertime. Wind gusts as high as 25-28 mph. Tonight, expect mostly cloudy skies and decreasing showers with a low of 45°.
Tomorrow: Sunny with a high of 62°; slight north wind up to 8 mph.  Overnight, expect mostly clear skies with a low of 40°.
Tuesday: Sunny with a high of 64°. Overnight, expect clear skies with a low of 41°.
That's it for me! Follow @wxornotBG on Twitter and like Landon Hampton on Facebook for the latest weather information. Also, Landon posts daily weather vlogs on Facebook, so be sure to check those out! Have a wonderful start to the week and remember: it's never too early to start getting ready for Christmas!! (I REALLY love Christmas!)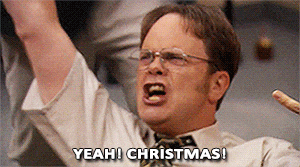 Via Giphy.com