Headlining Weather
Good weekend morning to everyone! I'm gonna keep this blog post short and sweet because it looks like this weekend is gonna be beautiful! (and kinda warm, but still really nice)
Via Giphy.com
---
The Details
Upper level ridging with surface high pressure is in place over the region through the weekend, allowing for dry weather and warm temperatures. Sunshine galore can be expected this weekend with temperatures warming up in the mid-80's!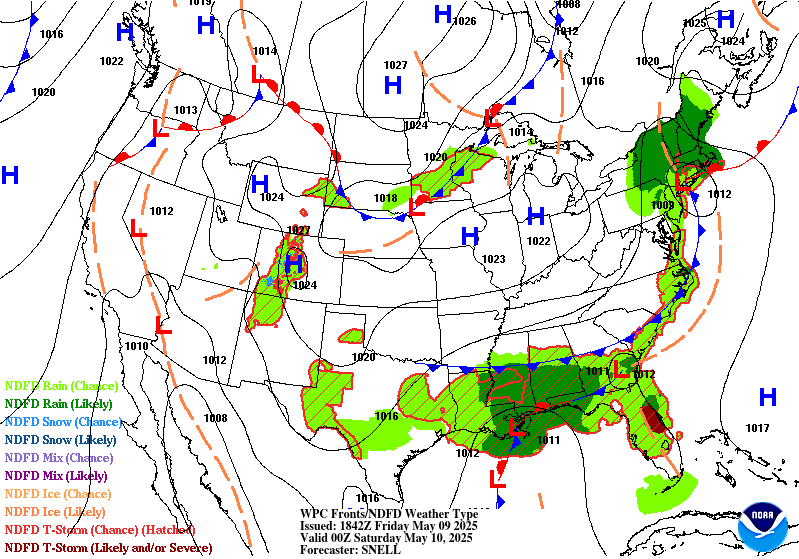 Via WPC Surface Analysis, valid today 7am – Monday 7am
Also for your weekend, some of you may have to deal with that pesky fog in the morning, so just be aware of that as you make your commute.
Via Giphy.com
For the beginning of your workweek, this upper level ridging begins to break down, introducing slight rain chances into our forecast. Temperatures still look to be in low to mid 80's, however.
Upper level winds via COD Meteorology, valid today & tomorrow: upper level ridging over our region with troughing over the western US

Also, there is another hurricane developing in the Atlantic. Hurricane Jose is forecasted to move up the northeastern coast of the US, possibly making landfall later next week.
NHC
Welp, that's it. I told y'all it was gonna be a short one today! Looking at the long-term weather for our area, we may have some more unsettled weather during the first half of the workweek, but nothing is set in stone right now. Make sure to check back with us daily for updates! Have an absolutely wonderful weekend of football (Go VOLS and Patriots!)!!
Via Giphy.com
---
Forecast Summary
Today: Sunny with a high of 84°. Overnight, expect mostly clear skies with a low of 64°.
Sunday: Sunny with a high of 85°. Overnight, expect partly cloudy skies with a low of 65°.
Monday: Partly sunny with a high of 83°. Chance of isolated showers in the afternoon. Overnight, expect partly cloudy skies with a low of 65°.
Follow @wxornotBG on Twitter and like Landon Hampton on Facebook for the latest weather information. Also, Landon posts daily weather vlogs on Facebook, so be sure to check those out!