---
Headlining Weather
There is an area of low pressure located near Minnesota, moving northeast into Canada. This low pressure system is dragging a cold front into our region and is expected to move through South Central Kentucky this afternoon/evening.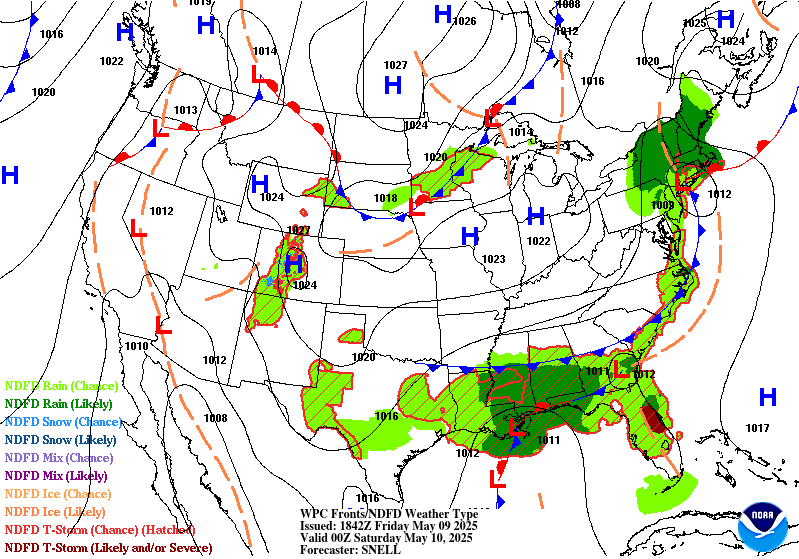 Via WPC Surface Analysis, valid today 7am – Saturday 7am
When this cold front moves through our area, we will likely have strong storms, bringing heavy downpours and gusty winds. There may be a severe storm cell or two, but overall mainly just strong storms.
Via COD Meteorology Simulated Reflectivity, valid today
As of right now, the Storm Prediction Center has our area in a marginal risk (level 1/5) for severe weather. Again, I think we'll have mainly strong storms, but I can't completely rule out a severe storm or two. Just make sure you all stay weather-aware today!
Severe Weather Outlook via SPC
Now, I'm sure you've probably guessed that it's going to be rather warm and definitely muggy today since we're going to see some storms this afternoon. Heat index values could be as high as 100, so please be careful if you're outside today. The atmosphere is primed for these afternoon/evening showers and storms, and, unfortunately, we're going to pay the price for that in terms of humidity. It's gon' be MUGGY!
Via Giphy.com
I do have some incredibly exciting news, though. Once this cold front moves through tonight, we should have some much nicer conditions to end our work week! It'll be slightly cooler with lower dewpoints (yes!) on Friday, so we may actually be able to walk outside without feeling like we're swimming in a pool!
Via Giphy.com
High pressure will begin to build in on Friday, giving us this nice weather. For Saturday, however, an upper trough looks to pass through the region, increasing rain chances. There won't be as much atmospheric moisture to work with, but a few showers and storms could develop. Once these storms end, Saturday night looks pleasant.
Via COD Meteorology, Simulated Reflectivity, valid Saturday (upper trough passing though)
---
Forecast Summary
Today: Scattered showers and t-storms during the afternoon and early evening. High of 92°. Overnight, expect decreasing showers and storms with a low of 68°.
Tomorrow: Mostly sunny with a high of 87°. Overnight, expect mostly clear skies with a low of 66°.
Saturday: Scattered showers and t-storms possible during the afternoon. Otherwise, mostly sunny with a high of 88°. Overnight, expect mostly clear skies with a low of 67°.
Well, that's all I got for y'all! Make sure to follow @wxornotBG on Twitter and like Landon Hampton on Facebook for the latest weather information. Have a fantastic rest of the week! If I don't talk to you before the solar eclipse on Monday, then have a great time! P.S. don't look directly at the sun. It's bad for your eyes.