---
Headlining Weather
Good morning, everybody! Well, today's forecast is a rinse and repeat from yesterday: hot, humid, and a chance for scattered showers and thunderstorms during the afternoon and early evening. Friday looks to bring a passing cold front, which means more organized storm systems heading our way. Saturday, on the other hand…looks beautiful!
Via Giphy.com
Today, we can expect another unsettled weather day with isolated to scattered thunderstorms starting in the afternoon and dying down by the mid-evening. Honestly, that's pretty much it for today's weather. Just make sure you bring an umbrella with you – locally heavy rain and gusty winds are in store for us!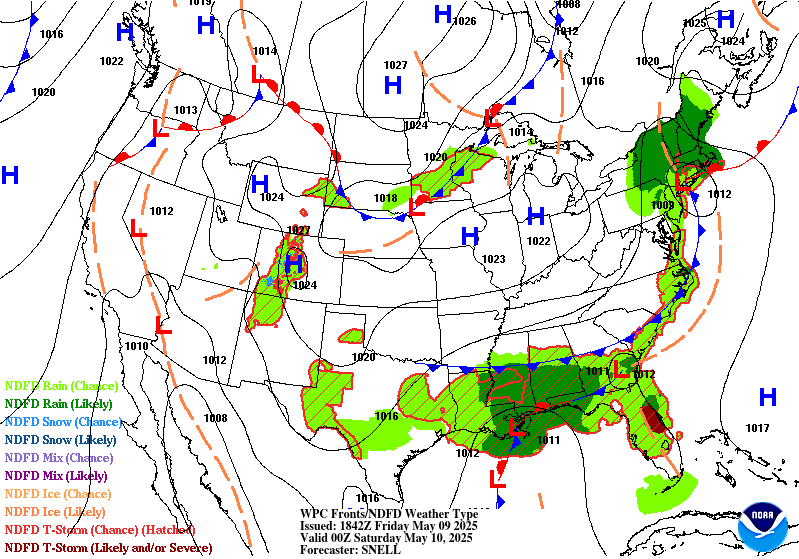 Via WPC, Short Range Forecast Surface Analysis
Tomorrow will be a little nastier as a surface cold front pushes through the region. The upper level trough, associated with this ridge/trough pattern across the US, will be dragging a surface cold front across our neck of the woods. Timing looks to be anywhere between mid-morning to mid-afternoon.
Via COD Meteorology, valid tomorrow, NAM 500 mb – Ridge/Trough pattern
With this more organized storm system, we could see stronger, potentially severe, storms. Damaging winds and torrential rain look to be the main threats, but we can't rule out small hail either. Because of these storms, the SPC has placed us in a marginal risk (level 1/5) for severe weather.
Via SPC
Again, bring an umbrella or rain jacket with you tomorrow…it could get a little hairy out there.
Via Gipy.com
The storm activity looks to die down once the cold front passes, no later than the evening time. Our Saturday looks so good, I barely have any words for it other than AMAZING! Highs will be hovering right around 80 degrees with sunny skies!
Via Giphy.com
---
Forecast Summary
Today: Sunny with scattered t-storms in the afternoon. High of 85°. Overnight, expect partly cloudy skies with low of 70°.
Tomorrow: Showers and t-storms throughout the day with a high of 83°. Overnight, expect partly cloudy skies with low of 59°.
Saturday: Sunny and beautiful with a high of 80°. Overnight, expect partly cloudy skies with low of 61°.
Well, that's all I got for y'all! Make sure to follow @wxornotBG on Twitter and like Landon Hampton on Facebook for the latest weather information. Have a fantastic rest of the week!