---
Forecast Discussion
Good morning, everybody! I hope y'all have an umbrella or rain jacket because we're about to have quite a bit of rain starting today thanks to Tropical Storm Cindy. (I have an Aunt Cindy – just thought you should know!)
Tropical Storm Cindy's path, via NHC
The core of Tropical Storm Cindy is projected to move straight through the Bowling Green area, due to a trough and associated cold front nudging her northward into our neck of the woods. As she moves northward toward our area, so will an anomalous amount of moisture. This moisture is what's going to give us these high shower and thunderstorm chances through the end of the workweek.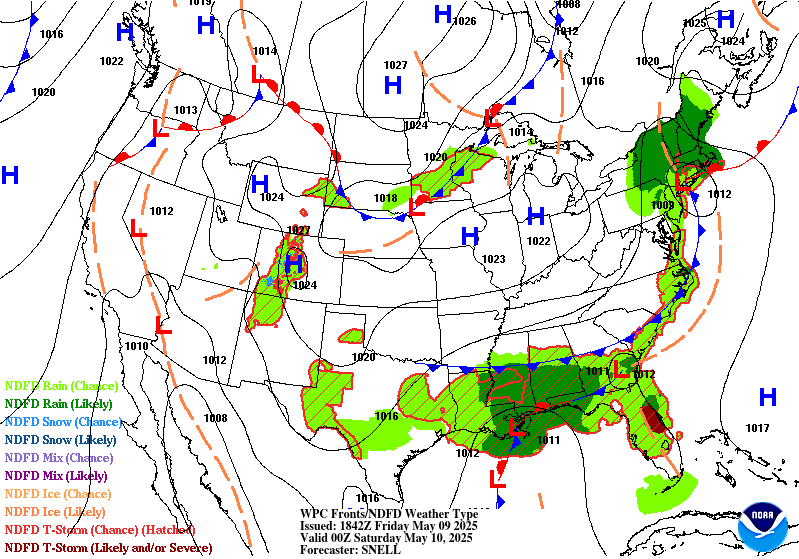 WPC Surface Map via NOAA, valid today 7am – Saturday 7am
What you can take away from all of this is that between now and Saturday morning, we are going to get A LOT OF RAIN. Precipitable water rates for this event look to range from 2-4 inches over the next couple of days. Precipitable water is the amount of water you would have if all the moisture was squeezed out of the atmospheric column – like completely wringing out a wet towel. Once the rain moves in this morning, it should pretty much rain/storm intermittently all day. There is the possibility of a lull during the afternoon/early evening hours today based on certain weather model output, so keep that in mind, as well. Overall, we are going to get a lot of rain in a short amount of time, so stay updated with current weather information.
Estimated precip totals, via NWS Louisville
Friday looks to be the day that's going to bring the most rain, and, therefore, the highest flash flooding chances. Basically, the aforementioned cold front is the driving force behind tropical storm Cindy's track. The heaviest rainfall will be along her track and just to the north of it. These storms could, essentially, just sit and drop huge amounts of water in the same area for several hours, creating a big flash flooding risk. Because of this, the Weather Prediction Center has placed us in a Moderate Risk for flash flooding.
Please stay weather aware, and don't drive through flooded areas.
Flash flooding tips, via NWS Louisville
To add even more "fun", there looks to be an increased severe weather threat for Friday. The Storm Prediction center has placed our area in a marginal risk (1/5) for severe weather; however, the Bowling Green area is on the border between marginal (1/5) and slight (2/5), so please stay updated on the severe weather threat. Just because we aren't actually in the higher severe weather risk area doesn't mean that we're out of the woods yet.
Marginal risk for severe weather, via SPC
Once that cold front pushes everything through our area Friday night, we'll be left with much nicer conditions for our weekend. Stay weather aware today and tomorrow, and you'll be rewarded with some much better weather this weekend!
---
Forecast Summary
Today: Showers and thunderstorms off and on all day with a high of 79°. Tonight, expect more showers and thunderstorms with low of 74°. Possibly a lull in the shower activity during the afternoon into early evening hours.
Tomorrow: Showers and thunderstorms off and on all day with a high of 82°. Overnight, expect more showers and thunderstorms with low of 66°.
Saturday: Mostly sunny with a high of 80°. Overnight, expect partly cloudy skies with low of 59°. Overall, much nicer conditions coming for the weekend – dry, sunny, and lower humidity!
Well, that's all I got for y'all! Make sure to follow @wxornotBG on Twitter and like Landon Hampton on Facebook for the latest weather information. Have a fantastic rest of the week, and stay weather aware!