---
Good Thursday morning to y'all! I've got a lot to talk about, so let's get started…
Forecast Discussion
In the upper-levels, we have a deep, elongated trough producing an upper-level low situated right over west-central Tennessee and Kentucky. This upper-level low is forcing a surface low to our north. With this surface low, we have wrap-around wind flow, meaning that winds today could be between 10-20 mph. This whole system, however, should be moving eastward today, leaving us under the influence of higher pressure for today and part of tomorrow.
NAM Upper-Level Heights & Winds via COD Meteorology, valid today(7am) – tomorrow(7am)

Some of our central to eastern counties may experience some leftover rain showers and thunderstorms this morning/early afternoon due to wrap-around moisture, but the rest of the day looks to be very pleasant. By this evening, the trough will have moved to our east, with high pressure moving in behind the system.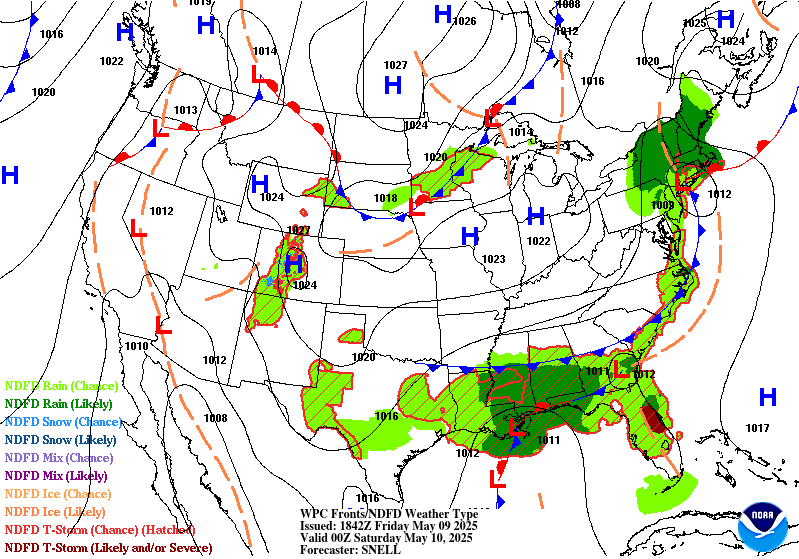 WPC Surface Map via NOAA, valid today 7am – Saturday 7am
Friday also looks pretty pleasant with only an isolated chance for showers and thunderstorms in the afternoon, due to daytime heating. Friday looks to be partly sunny with highs in the upper 70's to 80's across the area. Starting Friday night, we do have the potential for some severe weather Saturday night and into Sunday.
Hi-Res NAM Simulated Reflectivity via COD Meteorology, valid Friday morning – Saturday morning

Saturday will be hot and humid, with dewpoints rising into the 70's across the area. This will increase the instability of the atmosphere by the afternoon; however, this instability will be dependent on a few things. The first being any storms or leftover boundaries created by storms occurring on Friday night. The second being how much low-level moisture we have to work with (the most important of the two) because less moisture will decrease the atmospheric instability, decreasing the severe weather threat. Because of this potential, the SPC has put our area under a slight risk (level 2 out of 5) for Saturday.
Via SPC (slight risk)
The timing and location differ between weather models, but it's looking more and more like we could have a very active Saturday night into Sunday morning. We will continue to monitor the situation, so make sure to check tomorrow's blog post, as well as Saturday's post for the latest information.
---
Forecast Summary
Today: Scattered showers and thunderstorms through early afternoon with a high of 72°. Tonight, expect mostly clear skies with low of 58°.
Bus Stop: 57°
Lunchtime: 68°
School's Out: 72°
Evening: 69°
Tomorrow: Mostly sunny with a high of 85°. In the late afternoon/evening, expect mostly cloudy skies then slight chance of thunderstorms with a low of 69°.
Bus Stop: 58°
Lunchtime: 81°
School's Out: 85°
Evening: 77°
Saturday: Showers and thunderstorms during the afternoon and evening; high of 84° and a low of 69°. Overnight, expect more thunderstorms, moving into Sunday.
Wake Up: 70°
Lunchtime: 80°
Evening: 80°
---
Today's Main Points
Today: rain showers and thunderstorms, then nicer
Tomorrow: no rain (hopefully)!
Saturday: severe weather potential Saturday night -> Sunday morning
Well, that's all I got for y'all! Make sure to follow @wxornotBG on Twitter and like Landon Hampton on Facebook for the latest weather information. Have a fantastic rest of the week and a great Memorial Day weekend!