---
Forecast Discussion
So, I hope everybody likes rain because we are about to see quite a bit of it. We've had some rain overnight and will continue to see more throughout the day and into the weekend.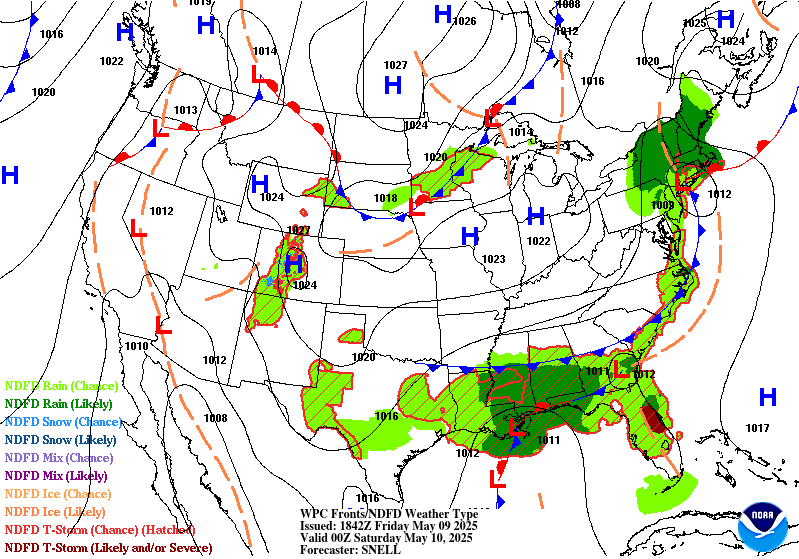 WPC Surface Map via NOAA, valid today 7am – Saturday 7am
There's a low pressure system that just kinda hangs around the area for the next couple of days, allowing our area to be flooded (pun intended) with rounds of showers and thunderstorms. There may be a dry period during the day which could give us a little instability for thunderstorm development, so the SPC has put our area under a Marginal risk for severe weather today (level 1/5). These storms won't be severe, but we could get some thunder and locally heavy precipitation from them.
SPC Day 1 Outlook, via SPC

Otherwise, for the majority of the day, it'll be windy and rainy, so don't forget an umbrella or a rain jacket as you head out the door this morning. Friday, we'll see more rain showers during the day with a nice lull overnight and into Saturday morning. It may be a little chilly for all you cold-natured people, so bringing a light jacket may not be the worst idea you've ever had!
Quantitative Precipitation Forecast (QPF) over the next 72 hour, via WPC
I know some of you are wondering about your derby forecast (I'm from Tennessee, so I don't quite get the derby excitement, but…. Go horses!!) It looks like we're going to start off dry on Saturday, but the models are suggesting another round of showers moving in on the backside of the low pressure system. The timing looks to be late morning to early afternoon, so it doesn't look like the whole day will be a washout, which is good.
Via Giphy.com
---
Forecast Summary
Today: Scattered showers and thunderstorms with a high of 66°. Tonight, expect more showers with low of 50°.
Bus Stop: 65°
Lunchtime: 66°
School's Out: 64°
Evening: 60°
Tomorrow: Scattered showers and thunderstorms with a high of 56°. Overnight, expect more showers with low of 44°.
Bus Stop: 50°
Lunchtime: 54°
School's Out: 56°
Evening: 53°
Saturday: Scattered chance for showers, but overall partly sunny; high of 64° and a low of 41°. Overnight, expect decreasing cloud cover, moving into Sunday.
Wake Up: 44°
Lunchtime: 61°
Evening: 60°
---
Today's Main Points
Today: rain showers and thunderstorms
Tomorrow: more showers and thunderstorms
Saturday: decreasing showers, but would not rule out one last round of showers
Well, that's all I got for y'all! Make sure to follow @wxornotBG on Twitter and like Landon Hampton on Facebook for the latest weather information. Have a fantastic rest of the week!