---
Forecast Discussion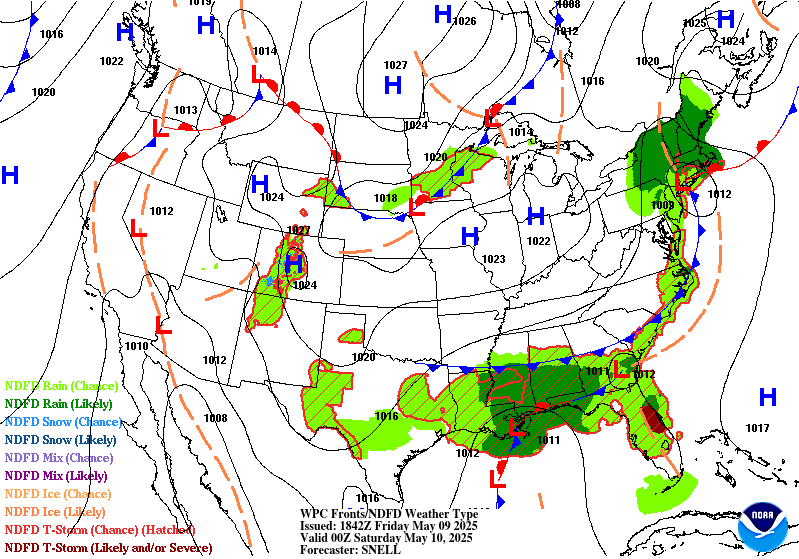 WPC Surface Map via NOAA, valid today 7am – Saturday 7am
There is a low pressure system to our north with a cold front extending down to our area. This cold front will push eastward through our region this morning, bringing some showers and storms with it. Once this cold front moves through around mid/late morning, any precipitation will end, and we'll be left with mostly cloudy conditions for the remainder of the day, with highs in the upper 60's.
Hi-Res NAM Simulated Reflectivity via COD Meteorology, valid this morning
Surface high pressure will fill in overnight behind the frontal passage, but only briefly as we prepare for our next "weather-maker" tomorrow. For Friday, there is a developing low pressure system situated over the south central US, making its way to our area. The warm front associated with this system could potentially be in close proximity to the Ohio Valley; however, the exact placement of this front will be critical for our severe weather threat.
SPC Severe Weather Outlook for tomorrow
The Storm Prediction Center has placed most of south central Kentucky in a slight risk for severe weather tomorrow (level 2 out of 5), and has placed western Kentucky in an enhanced risk (level 3 out of 5). The timing for this event looks to be tomorrow afternoon/evening and overnight. The main threats look to be damaging winds and hail, with a low possibility of isolated tornadoes.
Quantitative Precipitation Forecast (QPF) over the next 72 hour, via WPC
By Saturday, the warm front is expected to lift north of our area during the day. Based on model outputs, it looks like we'll stay mostly dry on Saturday, but there is the potential for showers and storms, so stay tuned with the blog in order to keep updated!
---
Forecast Summary
Today: Scattered showers and thunderstorms, ending around mid-morning. Mostly Cloudy with a high of 69°. Tonight, expect partly cloudy skies with low of 53°.
Bus Stop: 65°
Lunchtime: 67°
School's Out: 69°
Evening: 66°
Tomorrow: Partly sunny with isolated chance of showers and thunderstorms; high of 82° and a low of 69°. During the evening and overnight hours, scattered showers and thunderstorms.
Bus Stop: 53°
Lunchtime: 78°
School's Out: 82°
Evening: 77°
Saturday: Isolated chance for showers and thunderstorms, but overall partly sunny; high of 87° and a low of 70°.
Wake Up: 69°
Lunchtime: 83°
Evening: 79°
---
Today's Main Points
Today: showers ending mid-morning, mostly cloudy becoming partly cloudy
Tomorrow: increasing shower and thunderstorm chances throughout the day
Saturday-Sunday: isolated showers and thunderstorms, otherwise partly sunny
Well, that's all I got for y'all! Make sure to follow @wxornotBG on Twitter and like Landon Hampton on Facebook for the latest weather information. Have a fantastic rest of the week!