---
Forecast Discussion
Good morning, everybody! I'm gonna warn you, starting today through this weekend, we are looking at an active weather pattern across the region. Showers and thunderstorms will be prevalent throughout the period, so grab your rain jacket/umbrella, and let's get started.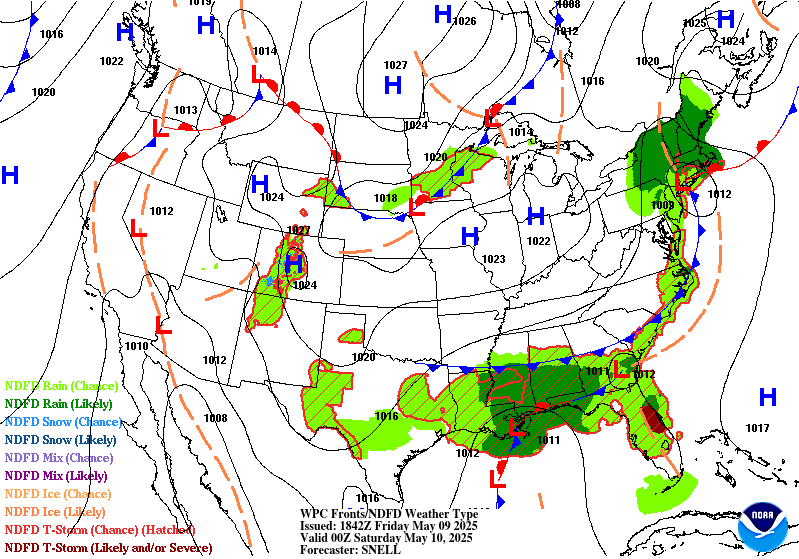 WPC Surface Map via NOAA, valid today 7am – Saturday 7am
A surface low pressure system centered over Iowa is forecast to move eastward, dragging a cold front through our area tonight. This will introduce showers and thunderstorms into the region later this afternoon and evening. The expectations for this evening are the storms will be strong, but not severe, but remain aware of heavy rain and windy conditions. These storms look to weaken as they move on overnight.
NAM Nest Simulated Reflectivity via COD Meteorology, valid this evening and overnight

Friday looks cooler with highs near 70 degrees; however, rain chances will continue as the cold front continues to move through the area. There is the possibility of thunderstorms, but, again, nothing severe. Saturday is more of the same thing as the low moves through the area. It looks to be slightly windy with a northeast wind, allowing temperatures to remain cooler; highs in the mid 60's. Starting this evening through Sunday, we are going to get quite a bit of rain, so keep that in mind as you make plans for the weekend.
NWS Louisville Rain Total Estimates
---
Forecast Summary
Today: Mostly sunny during the day with showers and thunderstorms this evening; high of 83° with a low of 64°.
Bus Stop: 66°
Lunchtime: 80°
School's Out: 83°
Evening: 77°
Tomorrow: Showers and thunderstorms for most of the day; high of 70° and a low of 54°.
Bus Stop: 64°
Lunchtime: 67°
School's Out: 70°
Evening: 63°
Saturday: Showers and thunderstorms likely for most of the day; high of 67° and a low of 50°.
Wake Up: 56°
Lunchtime: 62°
Evening: 53°
---
Today's Main Points
Today: mostly sunny during the day, rainy and thunderstormy during the evening
Tomorrow: rainy and thunderstormy
Saturday-Sunday: rainy and thunderstormy
Well, that's all I got for y'all! Make sure to follow @wxornotBG on Twitter and like Landon Hampton on Facebook for the latest weather information. Have a fantastic rest of the week and make sure to carry a rain jacket or umbrella!