---
Forecast Discussion
Good Friday morning to everyone! Well, it looks like we've got some pretty nice weather in store for the region today and tomorrow. Southerly winds will bring in much warmer air, resulting in higher temperatures – mid to upper 80's! Due to all this heating, there may be a chance for a stray shower or two, but the models suggest that we'll stay mainly dry today and tomorrow.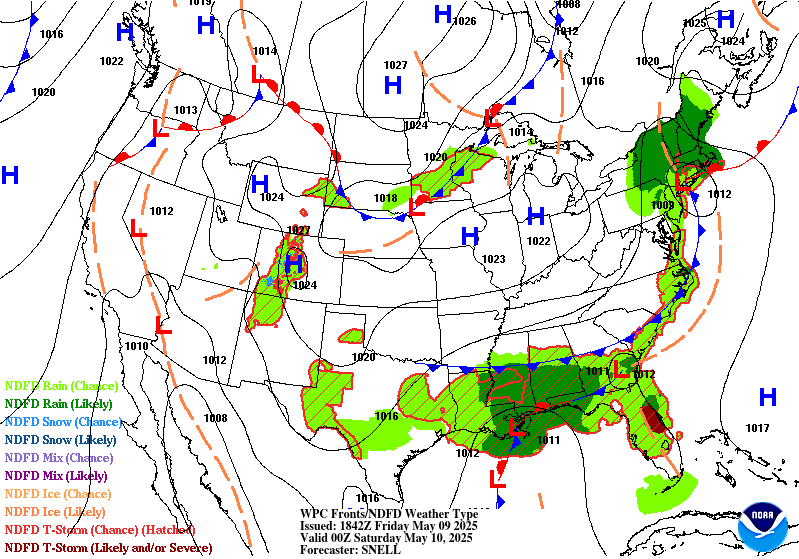 WPC Surface Map via NOAA, valid today (7am) – Sunday (7am)
Our next big "rain-maker" looks to move through on Easter Sunday in the form of a cold front. Expect scattered showers and thunderstorms during the early morning hours on Sunday, but more widespread activity during the early afternoon and evening hours.
Simulated Reflectivity via COD Meteorology, valid Sunday afternoon through Monday morning
Honestly, that's pretty much it! Today and tomorrow look nice, but warm with clouds beginning to roll in. Easter Sunday looks to be rainy and thunderstormy ( I may or may not have made up that word).
---
Forecast Summary
Today: Mostly sunny with a high around 86°. Overnight, expect partly cloudy skies with a low around 61°.
Bus Stop: 53°
Lunchtime: 82°
School's Out: 86°
Evening: 77°
Tomorrow: Mostly sunny with a high of 83°. Overnight, expect increasing clouds and a chance of scattered showers, with an overnight low around 62°.
Wake Up: 61°
Lunchtime: 80°
Evening: 73°
Sunday: Scattered showers and thunderstorms becoming widespread by the afternoon. High of 77°. Overnight, expect more showers with a low around 62°.
Wake Up: 62°
Lunchtime: 74°
Evening: 69°
---
Today's Main Points
Today: hot, but enjoyable
Tomorrow: hot with increasing clouds overnight
Sunday (Easter): widespread showers and thunderstorms
Well, that's all I got for y'all! Make sure to follow @wxornotBG on Twitter and like Landon Hampton on Facebook for the latest weather information. Have a fantastic rest of the week!