---
Forecast Discussion
Good morning, everybody. Well, it looks like today is going to be a bit intense around the region, so buckle up and let's get started! There is a low pressure system near Kansas City this morning with a warm front extending into Tennessee and continuing to move northeastward throughout the day. Based on the placement of this warm front, we will be situated well within the warm sector of this system. Temperatures will be in the upper 70's near 80 degrees with dewpoints in the low to mid 60's across the area (going to feel gross outside today).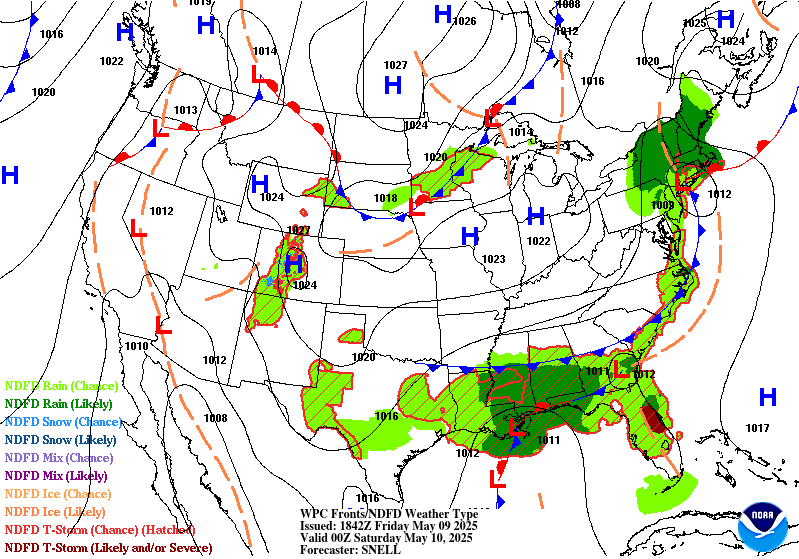 WPC Short Range Forecast via NOAA, valid today 7am – Saturday 7am
If we remain clear of heavy cloud cover and showers for the majority of the morning through early afternoon, then partly sunny skies would likely be expected, leading to increased surface temperatures. This would lead to greater instability in the atmosphere, increasing the amount of energy these storms would have to develop. Basically, it would likely increase the severity of the storms for this afternoon.
NAM 3km Composite Reflectivity via Pivotal Weather
For today, the Storm Prediction Center (SPC) has placed our area in an Enhanced risk for severe weather. Think of this risk as a level 3 out of 5, with the slight risk being a level 2 out of 5, and so on. Damaging winds, large hail, torrential rain, and isolated tornadoes are all possible, so please stay aware of the current weather conditions in your area.
Severe Weather Outlook Today via SPC
As far as timing goes, the greatest chance for severe weather looks to be between 4pm and 10pm tonight. This time frame falls within the rush-hour window, so keep that in mind as you prepare to travel home later today.
Timing of severe weather via NWS Louisville
The rest of the week: Once this main line of storms moves through tonight, the risk for severe weather declines. There may be some "leftover" showers overnight and into tomorrow morning early, but nothing in the way of severe weather tomorrow. The weekend looks like it's going to be very pleasant which is very much needed after today.
Thanks for reading and make sure to follow @wxornotBG on Twitter and like Landon Hampton on Facebook for the latest weather information. Stay weather-aware today!
Regional Radar: