---
Forecast Discussion
Howdy, everybody! I hope y'all are having a great start to your Thursday. I'm just gonna warn you now: the first half of this post may be slightly boring. For those of you who may be wondering what the symptoms of boredom are, well, here ya go:
Drowsiness, fatigue, sleepiness, lethargy, tired-feeling, not-being-able-to-focus-ness
If you or a loved one suffer from boredom because of this post, possibly consider drinking some caffeine, eating something, or running around the block once or twice to get that brain a'goin!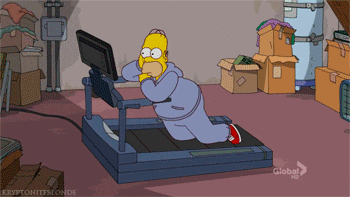 Via Giphy.com
For today and tomorrow, we'll be mainly under the influence of high pressure to our east with upper-level ridging aloft. There is a low pressure system that has developed off the Rockies, propagating eastward toward our region. I'll talk more about this system in a minute.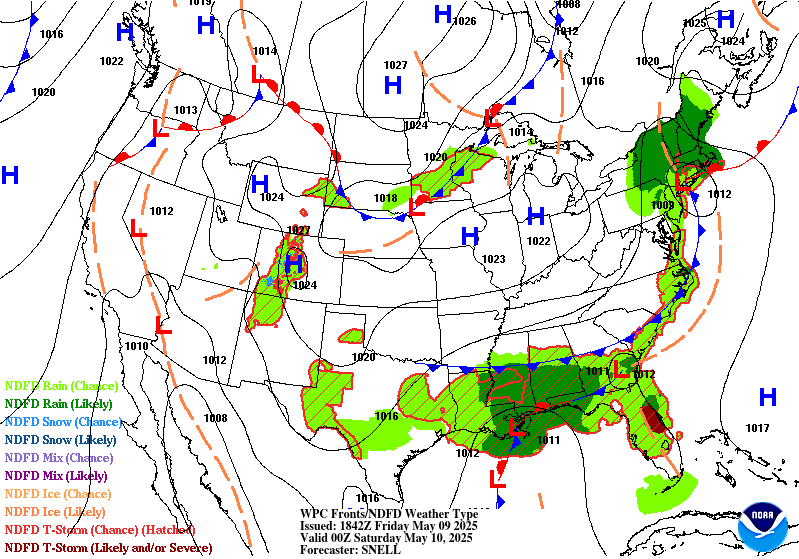 WPC Surface Map via NOAA, Valid today (7am) – Saturday (7am)
This morning, the combination of mostly clear skies, dry air, and light winds have enabled overnight lows to drop into the 30's (brrr!), but don't let these morning temperatures fool you! Southerly winds will allow for strong warm air advection and moisture advection into the region, or allow temperatures to skyrocket by this afternoon. Highs for today will be in the upper 60's, approaching 70.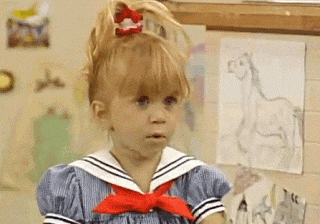 Via Giphy.com
Thursday night during the overnight hours, a weak disturbance (shortwave) looks to pass through out ahead of the main frontal passage on Saturday, but we shouldn't see any rain from this disturbance. For Friday, it looks a whole lot like today, but just a tad warmer. That low pressure system I mentioned above looks to weaken as it propagates toward us, putting us directly in the warm sector of this system. This will allow temperatures to warm.
NAM 500 mb Heights & Winds valid Thursday afternoon – Friday afternoon, via COD Meteorology
This is when things start to get a little more interesting….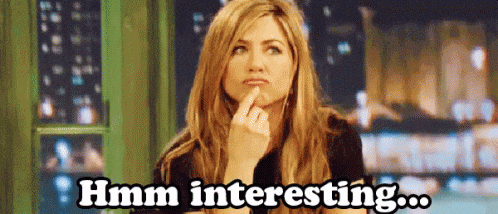 Via Giphy.com
Overnight Friday into Saturday morning, the aforementioned low pressure system will lift toward our region, bringing with it broad showers and embedded thunderstorms. There looks to be 2 rounds of precipitation on Saturday, with our area possibly missing the first round and staying mainly dry until Saturday evening. Stay tuned to the blog for updates to the timing of this system.
NAM Simulated Reflectivity via COD Meteorology
---
Forecast Summary
Today: Partly sunny with a high of 67° – east wind becoming southerly by the afternoon. Overnight, expect mostly cloudy skies with a low around 53°.
Bus Stop: 34°
Lunchtime: 62°
School's Out: 67°
Evening: 62°
Tomorrow: Mostly cloudy with a high of 71° – breezy southerly wind. Overnight, expect increasing clouds with a low around 59°.
Bus Stop: 53°
Lunchtime: 66°
School's Out: 71°
Evening: 63°
Saturday: Scattered showers and thunderstorms most of the day with a high of 71° – breezy southerly wind. Overnight, expect continued but decreasing showers. Low around 53°.
Wake Up: 59°
Lunchtime: 66°
Evening: 64°
---
Today's Main Points
Today: Nice, pleasant, and warm
Tomorrow: Nice and pleasant again, just a hair warmer
Saturday-Sunday: Hello showers and thunderstorms!
Well, that's all I got for y'all! Make sure to follow @wxornotBG on Twitter and like Landon Hampton on Facebook for the latest weather information. Have a fantastic rest of the week!
Real Time Radar