---
Yesterday's Weather
Good morning, everybody! Yesterday was a very nice day, wasn't it? Bowling Green's high was 66 degrees occurring at 3:55pm, and the low was 39 occurring at 11:54pm. Today is shaping up to be a very nice, dry day around the area. Get outside and enjoy it if you can!
Via Giphy.com
---
Forecast Summary
Today: Sunny with a high of 73°. For the evening and overnight, expect showers and thunderstorms with a low around 44°.
Bus Stop: ☀️39°
Lunchtime: ☀️69°
School's Out: 🌤73°
Evening: 🌧65°
Tomorrow: Mostly sunny with a high of 49°. Overnight, expect partly cloudy skies with a low around 29°.
Bus Stop: 🌧/🌤44°
Lunchtime: 🌤48°
School's Out: 🌤49°
Evening: 🌤43°
Saturday: Rain/snow mix possible with a high of 37°. Overnight, more snow possible, ending in the overnight hours, with a low around 22°.
Wake Up: ☁️29°
Lunchtime: ☁️33°
Evening: ☁️31°
---
Discussion
For those of you that really, really wanted winter gone for good, it looks like you may be unhappy after today. Old Man Winter is going to make an appearance. Via Giphy.com
High pressure is to our southeast this morning, with a cold front draped across Indiana and Illinois to our north. Southwesterly flow will allow temperatures to rise into the low 70's across the area. The aforementioned cold front looks to drop into our area tonight, bringing some rain and maybe a few thunderstorms with it.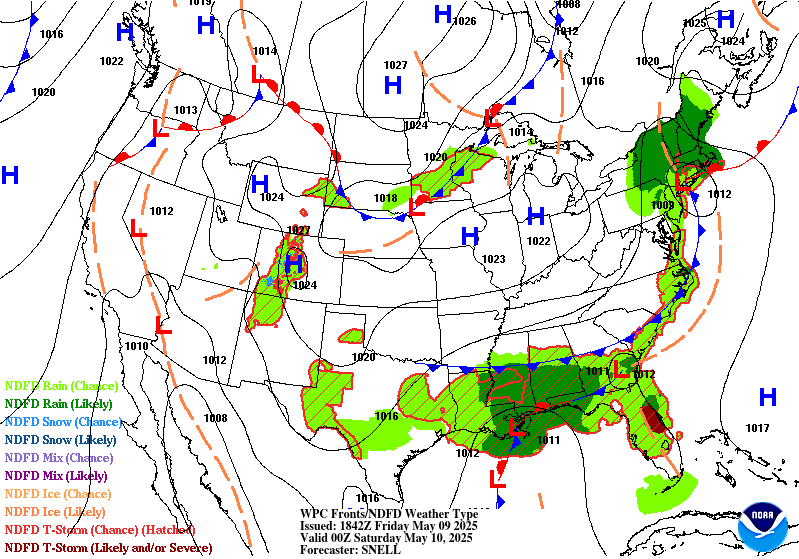 WPC Surface Map via NOAA, Valid Today 6am – Saturday 6am
Once the front moves through this evening and overnight, cold air will infiltrate the region behind the front. Winds will be northerly with highs for Friday in the upper 40's/low 50's, and overnight lows diving into the upper 20's.
NAM 4km Simulated Reflectivity valid Tonight – Tomorrow morning, via COD Meteorology
I'm sure by now most of you have heard something about snow Saturday into Sunday. As of right now, we can't definitively say that we will or won't get snow – it's still a little too early to tell. With that being said, models continue to align with the idea of a swath of the white stuff moving through this weekend.
The greatest potential for accumulating snow looks to be across southern Kentucky/northern Tennessee. As far as timing goes, the majority of the snow would fall Saturday night and into the overnight hours before tapering off Sunday morning. Accumulation amounts? It's anyone's guess at this point, but 1-3″, perhaps a bit more, can't be ruled out. We'll continue to watch this "thing" evolve and update you as necessary.
Via NWS Louisville
---
Today's Main Points
Today: Warm and pleasant
Tomorrow: Cold-ish
Saturday: Cold, possible snow
Well, that's all I got for y'all! Make sure to follow@WxOrNotBG on Twitter and like Landon Hampton on Facebook for the latest weather information. Have a wonderful rest of the week and stay awesome!
Real-Time Radar