Real-time Bowling Green Weather Radar
---
Yesterday's Weather
Yesterday was hot. There just isn't much else to say other than that. According to the NWS Climate Report, Bowling Green had a high of….90 degrees! It's supposed to be fall, and we had a high of 90 degrees! That is crazy! Well, good news, we are fixing to cool down significantly the next few days!
Via Giphy.com
---
Forecast Summary
Today: Showers and thunderstorms for most of the day with a high of 70°. Overnight, expect more showers and thunderstorms with lows around 50°.
Bus Stop: ☁️🌨64°
Lunchtime: 🌨⛈70°
School's Out: 🌨⛈67°
Evening: 🌨⛈62°
Tomorrow: Mostly sunny with a high of 57°. Overnight, expect mostly clear skies with lows around 40°.
Bus Stop: ⛅️48°
Lunchtime: ⛅️57°
School's Out: ☀️57°
Evening: ☀️🌤50°
Saturday: Sunny with a high near 60°. Overnight, expect clear skies with lows around 45°.
Wake Up: ☀️39°
Lunchtime:☀️57°
Evening: ☀️53°
---
Discussion
We are in store for a bit of an active day today, as a surface low pressure system and accompanying cold front move through the region.
WPC Surface Map via NOAA, Valid Today 1 PM
As this low pressure system and cold front track across the state, we will likely see increasing rain and storm chances for the majority of the day. Some of these storm cells could be severe, so damaging winds, hail, and torrential rain could all play a part in these storms today.
NAM 4km Simulated Reflectivity, Valid Today 10 AM

Most of the rain and thunderstorms looks to hit the Bowling Green area mainly in the afternoon. There will likely still be showers and thunderstorms before the afternoon time, but the main line of storms looks to move through the area during the late afternoon and throughout the evening.
NAM 4km Simulated Reflectivity, Valid Today 5 PM

Also, northwesterly winds will pick up and cool us down significantly, but beware because it could get a little breezy. The showers and thunderstorms will move out tonight through early tomorrow morning, allowing much cooler air to infiltrate the region.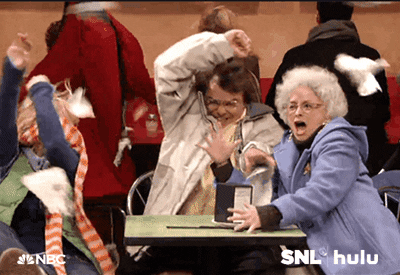 Via Giphy.com
Friday and Saturday will be nice and chilly for us, with highs only making it to the low 60's. Winds will still be out of the northwest, so it'll definitely feel very brisk and fall-ish outside! Saturday morning, we're going to see lows in the upper 30's, so there may even be some patchy frost!
---
Extended Outlook
Starting Sunday, temperatures will be on the rise to get us back to more moderate temperatures. Temperatures look to recover into the low 70's, but we should be nice and sunny. We will likely see temperatures in the low 70's starting Sunday through mid-week.
Well, that's all I got for y'all! Make sure to follow@WxOrNotBG on Twitter and like Landon Hampton on Facebook for the latest weather information. Have a wonderful rest of the week and stay awesome!