Real-time Bowling Green Weather Radar
---
Yesterday's Weather
It's been awhile since some of us got rain around here but thanks to a cold front that came through yesterday morning, some areas got up to and over a third of an inch of rain. Well, the cloud cover kept our temperatures in check, only making it to the lower 60s (even though the high officially went into the books near 70º at midnight).
---
Forecast Summary
Today: Wake up to some patchy dense fog, but otherwise mostly overcast with a slight chance at a shower or two, high near 72ºF. Shower chances remain overnight, with lows only dropping to around 60ºF.
Bus Stop:  🌫  53°F
Lunchtime: ☁️ 68°F
School's Out: ☁️🌧  71°F
Evening:☁️🌧  63°F
Tomorrow: Partly sunny with a slight chance of a passing shower, high around 78º. Mostly clear overnight, with a low around 60ºF
Wake up:  ⛅️ 62°F
Lunchtime: 🌤 75°F
Evening:🌕  65°F
Sunday: Mostly sunny, high around 84º. Clear overnight, with a low around 62ºF
Wake up:  ☀️ 63°F
Lunchtime: 🌤 80°F
Evening:🌕  67°F
---
Forecast Discussion
Okay, who flipped Ma Nature's calendar back to September? Seriously, the heat just doesn't know when to say quit.
Well, before we get back to The Hunt for Red (Hot) October, we're going to have to dodge a few showers first. The latest data shows that we'll likely stay cloudy but dry for most of Friday before a disturbance kicks our way and gives us a shot at some more rain.
Another small disturbance may come through during the day tomorrow, perhaps scattering a few showing about but nothing widespread.
However, the showers aren't the big story. No no, my friends, the big story is the heat returning to the forecast…yet again. Come on! It's mid-October!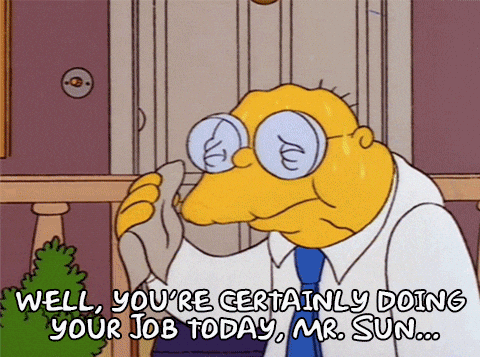 Temperatures on Saturday afternoon are going to near the 80ºF mark and Sunday's highs will top even that!
I think with more sunshine than on Saturday, it's possible we exceed that 79ºF that the NAM is showing. Either way, for October, it's pretty toasty.
---
Extended Outlook
Well, the warm weather is going to continue through at least mid-week before a cold front looks to put a stop to "Summer's Return Part IV: The Even More Summering", giving us a shot at some rain followed by some much more seasonal temperatures. Fall-like weather in fall…how do you like that?
That just about does it for me! Thanks for checking into WxOrNotBG this morning, and be sure to follow @WxOrNotBG and @WKUweather on Twitter and like Landon Hamptonon Facebook for the latest Bowling Green Weather information. Hope you have a terrific Friday!