Real-time Bowling Green Weather Radar
---
Yesterday's Weather
I don't know about y'all, but I thought yesterday was just a tad bit warm. According to the Kentucky Mesonet, Bowling Green hit 90 degrees yesterday. It definitely wasn't the hottest day we've ever seen, but I could stand for it to be a little cooler. Couldn't you?
Via The Kentucky Mesonet
---
Forecast Summary
Today: Mostly sunny with highs around 90°F. Overnight, expect partly cloudy skies with lows around 68°F.
Bus stop: 68°F
Lunch hour: 89°F
School is out: 90°F
Evening time: 84°F
Tomorrow: Mostly sunny with highs near 92°F. Overnight, mostly cloudy skies with a chance of showers and thunderstorms. Expect lows around 70°F.
Bus stop: 70°F
Lunch hour: 89°F
School is out: 92°F
Evening time: 85°F
Saturday: Scattered showers and thunderstorms with highs near 88°F. Expect more showers and thunderstorms with overnight lows around 69°F.
Wake Up: 72°F
Lunch hour: 87°F
Evening time: 80°F
---
Discussion
For today, there really isn't a whole lot to talk about. We're sitting under high pressure from a not-all-that-impressive upper-level ridge. Highs for today will be right around 90 degrees across the region. For tonight, lows will be in the upper 60's under partly cloudy skies.
Via COD Meteorology, NAM 500mb Heights & Winds, Valid Today 1:00 PM
For Friday, the ridge will have moved east of us, allowing southwesterly flow to infiltrate into the region. This will bring excess moisture to the atmosphere, especially by the weekend. I would expect some isolated showers and thunderstorms during the hottest part of the day on Friday, due to the extra atmospheric moisture. As far as temperatures go, they'll be a few degrees higher on Friday than today, with highs in the low 90's. Overnight, lows will be right around 70 degrees.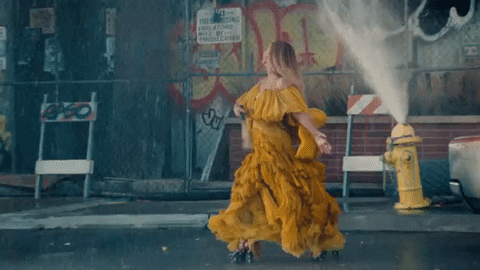 Via Giphy.com, Me playing in the rain.
Friday night into Saturday, our rain and thunderstorm chances look to increase. There's a cold front slowly moving our way from the west, bringing with it rain chances. There also looks to be several small upper-level disturbances moving through this upper-level, southwesterly flow. These disturbances would likely cause some isolated/scattered thunderstorms.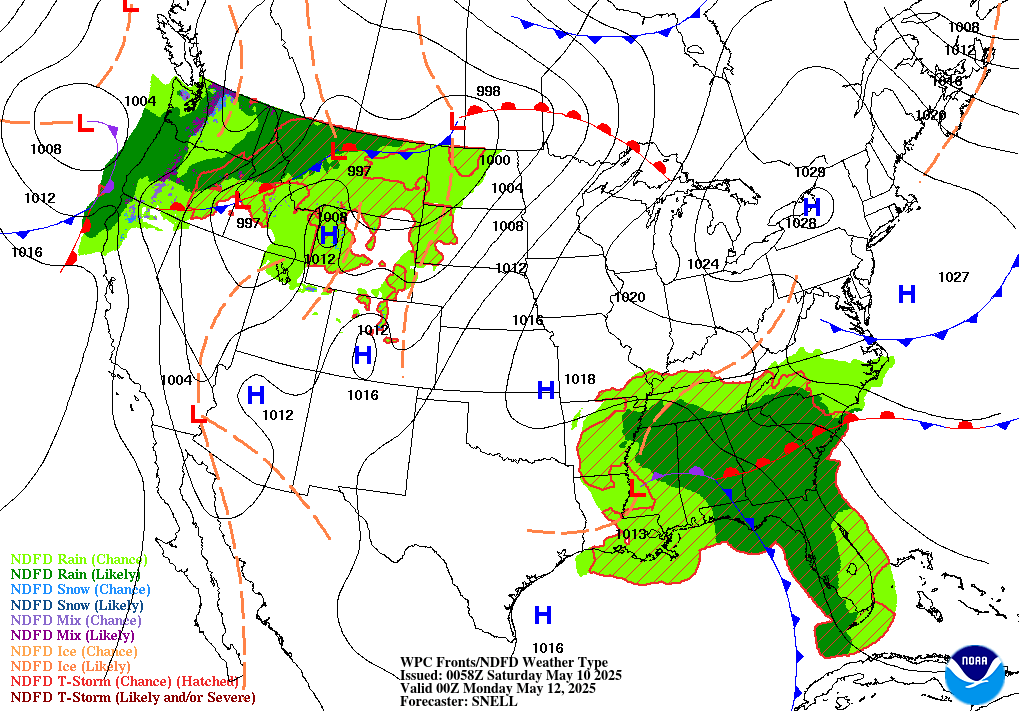 Via WPC Surface Analysis, Valid  Saturday 7:00 AM
Saturday doesn't look to be a complete washout, but there could definitely be some periods of heavy rain and lightning. Highs for Saturday will be in the upper 80's, and lows for the evening will be in the upper 60's and low 70's.
Via COD Meteorology, NAM 4km Simulated Reflectivity, Valid Saturday 1:00 PM
---
Extended Outlook
It looks like these rain and thunderstorm chances won't leave until early next week when another ridge starts to build in from the west. I can't say that the entire weekend will be a washout, but there could be some heavy rain and lightning possible. It looks like things will start to clear up around Monday or Tuesday of next week, so be on the lookout!
That's it for me! Thanks for reading and be sure to follow @WxOrNotBG and @WKUweather on Twitter and like Landon Hampton on Facebook for the latest Bowling Green Weather information. Stay awesome!