Real-time Bowling Green Weather Radar:
---
Yesterday's Weather
According to both the NWS Climate Report and the Kentucky Mesonet, Bowling had a high temperature of 83 degrees yesterday. The weather was pretty gross and just not very fun for anyone. If I had to classify yesterday's weather as a day of the week, it would definitely be a Monday because no one likes Mondays. Much nicer weather is coming for us, though! All we have to do is make it through the next 24 hours, and we will be golden.
Via Giphy.com
---
Forecast Summary
Today: Showers and thunderstorms mainly in the afternoon; cloudy skies with highs near 83°. Overnight, more showers and thunderstorms with some strong storms expected. Lows around 70°.
Wake Up: 🌥73°
Lunchtime: 🌥⛈82°
Evening: ⛈78°
Tomorrow: Isolated showers and thunderstorms in the morning, then clearing to mostly sunny skies; Highs near 80°. Overnight, mostly clear skies with lows around 59°.
Wake Up: ⛈🌤72°
Lunchtime: 🌤☀️79°
Evening: ☀️75°
Monday: Sunny with a high around 81°. Overnight, mostly clear skies with lows around 60°.
Bus Stop: ☀️64°
Lunchtime: ☀️79°
School's Out: ☀️80°
Evening: ☀️76°
---
Discussion
A strong trough with associated cold front has been moving eastward toward our region. This strong cold front looks to push into our area tonight, bringing with it showers and thunderstorms. We look to start off fairly dry this morning, but showers and thunderstorms will enter the picture during the afternoon and evening hours. As the day goes on, the atmosphere will heat up, causing it to become unstable. This instability combined with low-level moisture and impending cold front will allow storms to spark up in the afternoon through the overnight hours.
NAM 500 mb Heights & Winds, valid Today 10:00 PM, via COD Meteorology
These showers and thunderstorms look to form along the cold front as it moves through the region. The biggest threats with these storms will be heavy rain, strong winds, and lightning.
NAM 4 km Simulated Reflectivity, valid Today 1:00 PM, via COD Meteorology

Sunday could start off with a few lingering showers as the cold front finally pushes completely out of the region. However, once the front moves through, surface high pressure will slowly start settling in.
NAM 4 km Simulated Reflectivity, valid Sunday 1:00 AM, via COD Meteorology
The airmass that is moving in behind the cold front looks to be cooler and drier than the previous airmass, allowing temperatures to be very comfortably in the low 80's across the region. Dewpoints will also be lower across the region, so we shouldn't feel as humid once the front passes through.
NAM 4 km Temperatures, valid Sunday 4:00 PM, via COD Meteorology
We may even get to see that big, yellow fire ball in the sky – the sun!
Via Giphy.com
Monday will be very much of the same as Sunday, except no chance of morning showers at all. It's going to be an awesome day with highs in the low 80's under sunny skies!
NAM 4 km Temperatures, valid Monday 4:00 PM, via COD Meteorology
---
Extended Outlook
It looks like we are going to be enjoying this nicer weather until about midweek when atmospheric moisture increases, along with our temperatures and dewpoints. Also, those pesky rain chances will return again. Until then, though, I will definitely be enjoying this cooler, drier weather.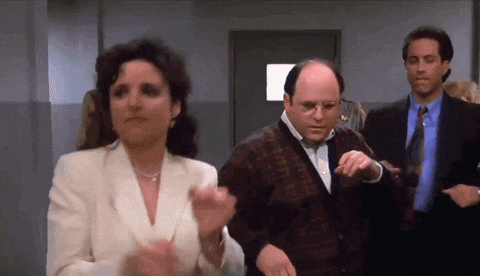 Via Giphy.com
Well, that's it for me! Y'all make sure to follow@WxOrNotBG on Twitter and like Landon Hampton on Facebook for the latest weather information. Have a wonderful weekend and stay awesome!