Real-time Bowling Green Weather Radar
---
Yesterday's Weather
Good morning, Bowling Green! I hope y'all are having a wonderful start to your weekend. As far as yesterday's weather is concerned, it was a very typical summer day. Hot and humid with partly cloudy skies. According to the Kentucky Mesonet, our high temperature yesterday was right around 92 degrees. I will say this. It looks like we're about to experience some not-so-boiling-lava-hot temperatures over the next few days, so get excited!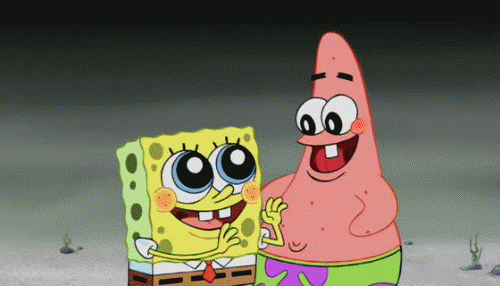 Via Giphy.com
---
Forecast Summary
Today: Isolated showers and thunderstorms; partly cloudy skies with highs near 89°. Overnight, increasing showers and thunderstorms with lows around 74°.
Wake Up: 🌤78°
Lunchtime: 🌤86°
Evening:⛈ 83°
Tomorrow: Showers and thunderstorms with highs near 87°. Overnight, continued showers and thunderstorms with lows around 73°.
Wake Up: 🌤75°
Lunchtime: ⛈🌤83°
Evening: 🌤⛈79°
Monday: Showers and thunderstorms continue with highs around 85°. Overnight, continued showers and thunderstorms with lows around 71°.
Wake Up:🌤 72°
Lunchtime: ⛈🌤83°
Evening: 🌤⛈80°
---
Discussion
Alright, so here's the lowdown on the overall weather situation. To our east, there is an anomalously strong high pressure system, extending into the Mid-Atlantic. Because of this strong high pressure system, a tropical low has been slowly moving through the Gulf, bringing in a lot of moisture into the atmosphere.
NAM 500 mb Heights & Winds, valid Today 1:00 PM, via COD Meteorology
WPC Surface Map via NOAA, Valid 7 PM
As an impending trough axis, with associated cold front, moves closer to our region, it will draw from this excess of atmospheric moisture and advect it into our area. We could potentially see a lot of rain with this upcoming system; however, there are some major difficulties with this forecast.
NAM PWAT Values, valid Today 1:00 PM, via COD Meteorology
The weather models are not all agreeing on where the heaviest rains are heading. Some of the models have the axis of the heaviest rain moving north of us and into southern Indiana, while other models have the rain moving through southern Kentucky. Based on the information so far, I believe that we will see isolated thunderstorm chances tomorrow during the day and increasing chances overnight, as that cold front moves closer to our area.
NAM 4 km Simulated Reflectivity, valid Sunday 7:00 PM, via COD Meteorology

For Sunday and Monday, it looks like we're still going to have quite a bit of atmospheric moisture to draw from, as we continue to keep that southwest flow aloft. As that trough moves closer to the region and then through it, we will see shower and thunderstorm chances increase. I anticipate that our area will see more shower and thunderstorm coverage Sunday and Monday, rather than today. Also keep in mind that these storms have access to a lot of moisture, so any storm that does form could have heavy rain, making flash flooding an issue.
Flash Flooding, Via NWS

As far as temperatures go, we will see below normal highs and above normal lows. For today, highs will be in the upper 80's with lows in the mid 70's. For the remainder of the forecast period, high temperatures will be decreasing, with temperatures making it into the mid 80's. Lows will still be in the low to mid 70's across the region. For your weekend, skies will stay partly to mostly cloudy.
---
Extended Outlook
According to the Climate Prediction Center, we are forecasted to have roughly normal temperatures and above average rainfall over the next 6-10 day period. This probably comes as no shock to you with all the cloud cover and precipitation we've seen recently!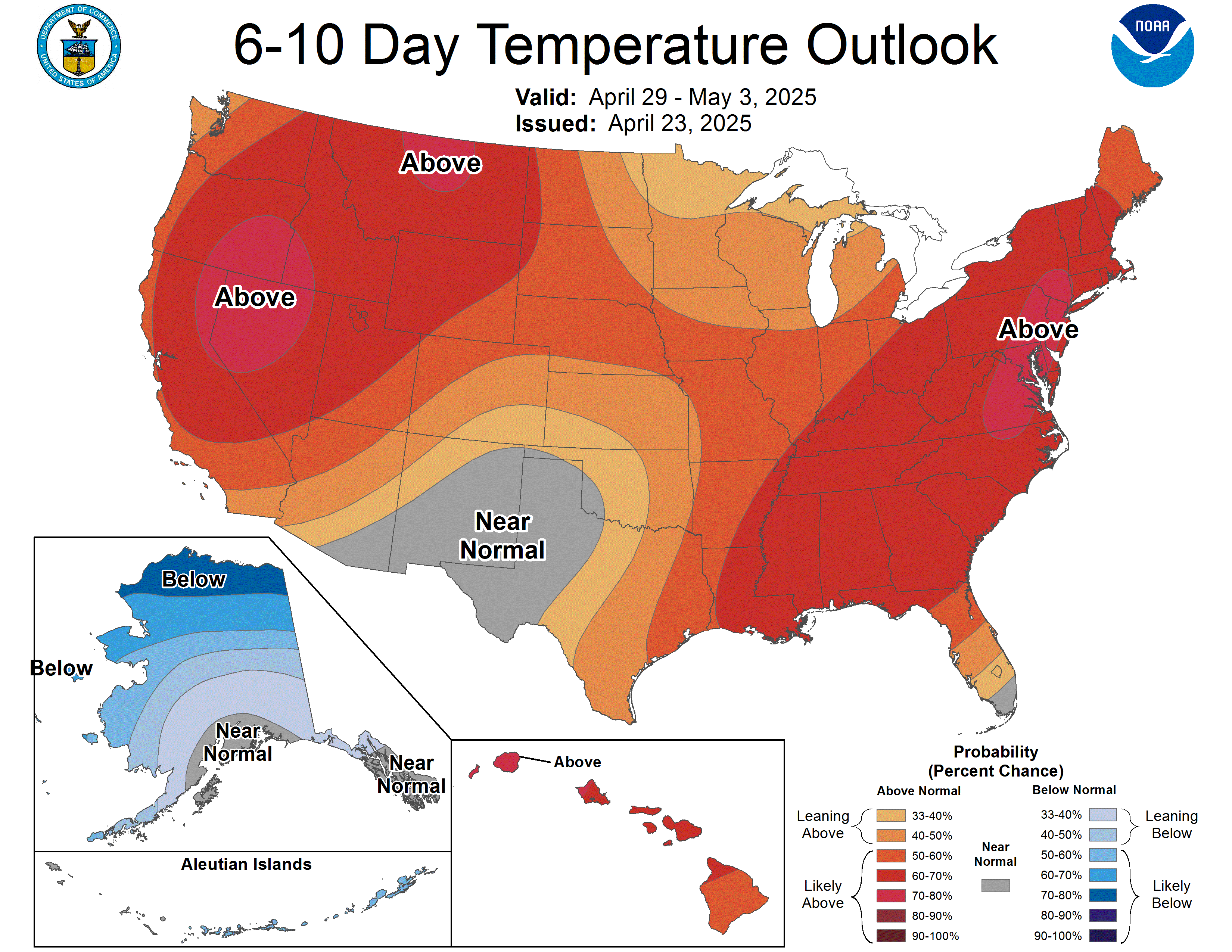 CPC's 6-10 Day Temperature Outlook, via CPC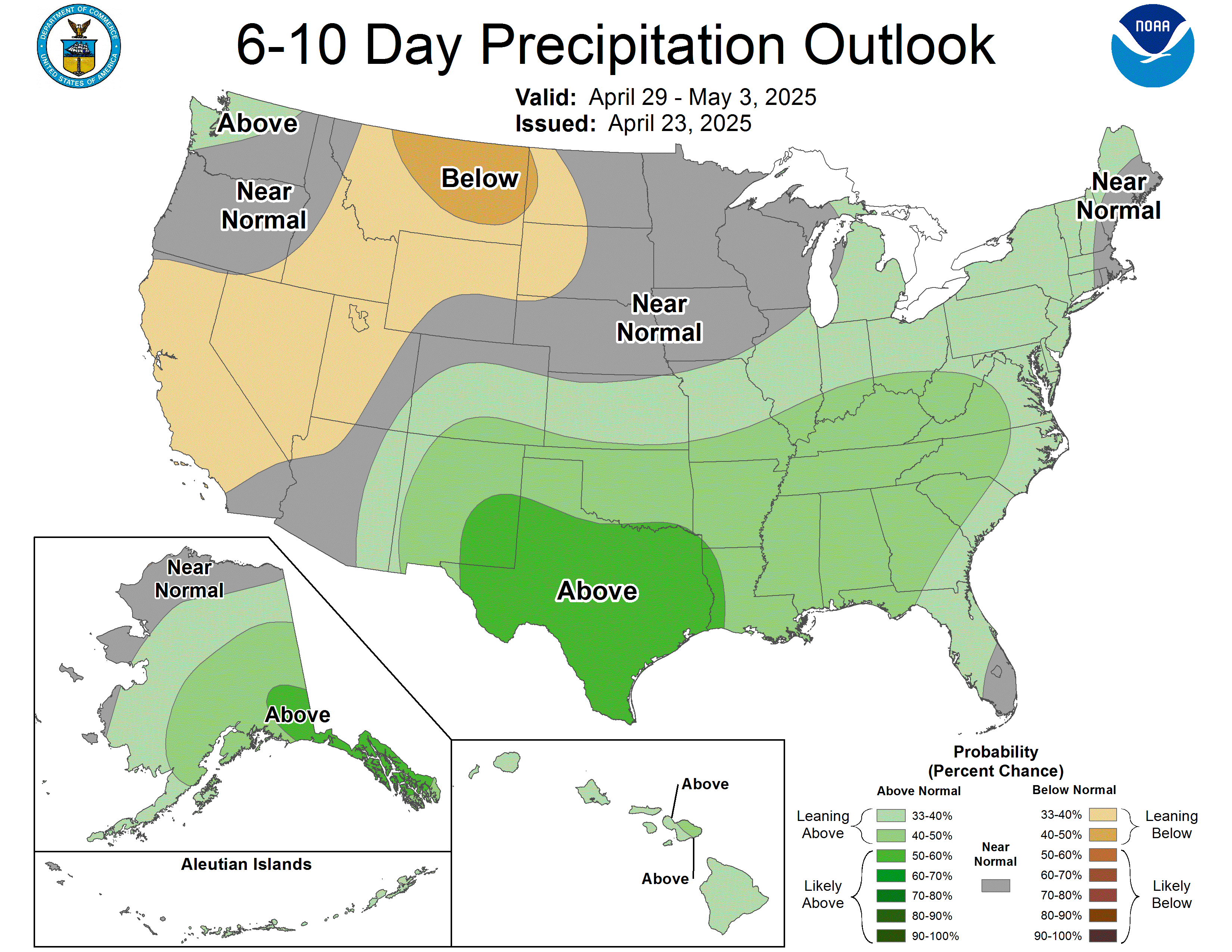 CPC's 6-10 Day Precipitation Outlook, via CPC
Well, that's all I got for y'all! Make sure to follow@WxOrNotBG on Twitter and like Landon Hampton on Facebook for the latest weather information. Have a wonderful weekend and stay awesome!