Real time Bowling Green Weather Radar:
---
Yesterday's Weather
What an eventful day we had yesterday! I don't know if this happened to any of y'all, but I found myself trying to calculate the best time to run from the office after work to my truck without getting soaked. I still ended up looking like I took a shower with my clothes on, but it was worth a try, I guess. If you would like an in-depth recap of yesterday's event, check out Pierce Larkin's blog post!
---
Forecast Summary
Today: Scattered showers and thunderstorms. Partly sunny skies with highs near 91°. Overnight, partly cloudy with lows around 75°.
Wake Up: ⛈76°
Lunchtime: 🌧⛅️89°
Evening: 🌧🌤87°
Tomorrow: Scattered showers and thunderstorms. Partly sunny skies with highs near 95°. Overnight, slight chance for showers and mostly cloudy with lows around 72°.
Wake Up: ☀️🌤77°
Lunchtime: 🌤⛈91°
Evening: 🌧🌥87°
Saturday: Nicer! Mostly sunny skies with highs near 89°. Overnight, partly cloudy with lows around 71°.
Wake Up: ☀️74°
Lunchtime: ☀️87°
Evening: 🌤86°
---
Discussion
Luckily, today doesn't seem to be as stormy and gross as yesterday.
Via Giphy.com
We will be well within the warm sector, ahead of an impending cold front, allowing our temperatures to remain very warm throughout the day. Highs for today will be in the low 90's, with a heat index close to 100°. It's also going to be very humid out there.
Via COD Meteorology, NAM 4 km temperatures for today at 5 PM
It does look like we could see some showers and thunderstorms during the morning hours, so be careful on your way to work and give yourself plenty of time. These showers look to move out before noon.
Via COD Meteorology, NAM 4 km simulated reflectivity today at 7 AM

Additionally, with a strong MCS moving out of Missouri this morning, we will likely strong to severe thunderstorms develop again this afternoon and evening. Strong warm air advection is present just to our west, and this should advect instability into the region. Additionally, once this morning's complex of storms moves out, things will heat up quickly. We will need to watch the MCS to our northwest, and boundaries will be present across the region from last evenings rainfall.
The likeliest hazards with this include damaging winds and flash flooding, with the latter being of high concern if widespread storms develop again. Be weather aware as you progress through your day.
The aforementioned cold front will finally reach our region from the northwest on Friday evening.
WPC Surface Map via NOAA, Valid 7 PM Friday – Cold front approaching the region
Via pivotalweather.com, NAM 500 mb heights and wind at 1 PM Friday
Most of the day will be dry, but showers and thunderstorms could develop during the afternoon and evening hours, as the front makes its way into our area. The SPC has our area in a slight risk for severe weather on Friday, with the main threats being damaging winds, heavy rain, and hail.
Although instability across the region is enough to promote thunderstorm development, shear seems to be lacking, which does not promote an organized storm structure. There is a possibility for some cells to organize quickly and develop into strong or severe thunderstorms, but this seems to be less likely. I would expect a large cluster of thunderstorms to move through the surrounding area.
Via COD Meteorology, NAM 4 km simulated reflectivity Friday at 7 PM

Again, temperatures will feel very hot, as highs will be in the low to mid 90's with a heat index near 100°. And muggy. Very muggy. Gross. Overnight, look for lows to be in the low to mid 70's under mostly cloudy/slightly rainy skies.
Wow, Saturday.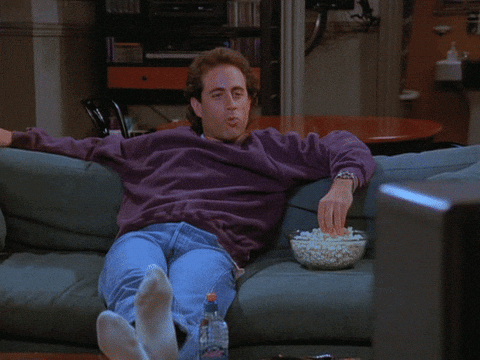 Via Giphy.com
After the cold front moves through Friday night/early Saturday morning, our temperatures look to cool off quite a bit. Highs will be in the upper 80's under mostly sunny skies. For the evening, lows will be in the upper 60's/lower 70's under partly cloudy skies.
It sure will be nice to have a non-active weather day on Saturday, considering these last couple of action-packed days!
---
Extended Outlook
I just don't know.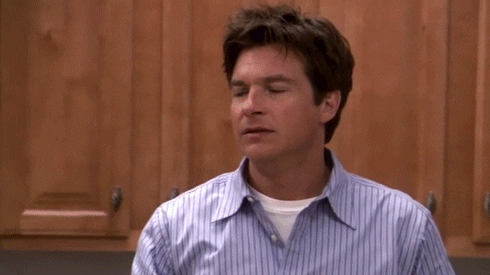 Via Giphy.com
It looks as though our rain chances will return as we head into next week after a relatively dry weekend; however, as far as long-term patterns go, I have no idea. I think we will be dealing with a bit more messy setup over the next week or so, but it's too far out to really have a good idea of what will happen.
Make sure to stay updated with the blog!