Today – AM Flurries; Gradual Clearing – High 26˚ / Tonight – Cloudy – Low 18˚
After a mostly sunny and relatively warm Thursday, I'm sure many people saw the light at the end of the tunnel!  Today is one of those days that shuts the door on that light. High temperatures won't even make into the 30's today as an Arctic High sits just to our north.
A few furiously flying flurries/light snow showers will be possible through the morning hours, as what's left of low clouds pushes south of the area.  Hit and miss snow showers last night has covered a few back roads, so please use caution on the morning commute.
Aside from the lingering clouds, we'll experience bitter temperatures that will struggle to make the mid 20s.  A persistent, northwest wind will place wind chill values in the single digits for much of the day…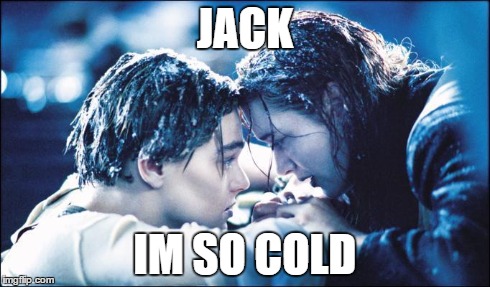 So. Freakin'. Cold.
---
Saturday – Partly Sunny – High 40˚ / Sat Night – Mostly Cloudy – Low 32˚
Saturday brings back a little be of the sweetness of Spring…but just a little. Early clouds will clear out and bring partly sunny skies, with temperatures topping out around 40˚. This may feel like lake weather for some, considering cold we've experienced…just don't jump in the water or you could end up like Jack.
Nashville may end up closer to 50 degrees Saturday. Notice the warm nose of air pushing up from the south through middle/west Tennessee. Cross your fingers and hope that inches a little farther north!
Spring has sprung????
---
Sunday – Chance of Rain – High 48˚ / Sun Night – Rain – Low 36˚
The warming trend continues into Sunday, however, there's a catch!
Scattered rain showers will move into the region Sunday and increase in coverage Sunday evening. The rain will continue off and on until mid week, as several disturbances look to impact south central Kentucky. Sloppy weather indeed!
The Weather Prediction Center shows the potential for 2-4″ of rain throughout next week. Much of the state is currently experiencing a drought, so a nice, steady rain should be welcomed.
Our warming trend will continue with these rain chances.  High temperatures ~50˚ are slated for both Sunday and Monday, with a legit chance of making a run at 60˚ come Tuesday!
Celebrate accordingly…
That's all the fun for this morning. Be sure to follow @WxOrNotBG and@WarrenCountyWX for the latest real-time weather info.